Plasma Cutting

The Powermax® family of products consists of seven highly portable, professional grade air plasma systems. Built to withstand heavy duty use in demanding industrial environments, the systems are an ideal choice for hand or automated cutting and gouging of any electrically conductive metal; depending on system size, they offer a severance cut capacity from 16 mm (5/8″) at 30 A to 57 mm (2-1/4″) at 125 A.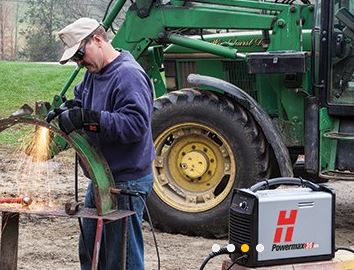 Powermax30 AIR
Despite its small size, the Powermax30® AIR delivers big performance. The smallest, lightest handheld plasma cutting system in its class, it includes its own built-in air compressor, so you can use the Powermax30 AIR anywhere there's single-phase power. Just plug it in, attach the work clamp and you're ready to cut.
Cutting Capacity: 8 to 16 mm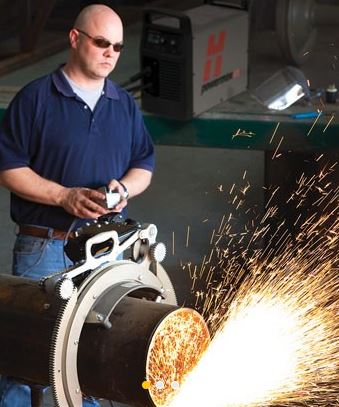 Powermax65
The Powermax65® plasma system is a versatile machine for heavy-duty cutting and gouging in demanding environments. Designed to maximize uptime and productivity, the system offers the latest technological innovations, such as Smart Sense™ technology to automatically adjust the gas pressure. With a variety of Duramax™ torch styles, operators can easily select exactly the right tool for the job: hand cutting or gouging, portable automation, X-Y table, and robotic cutting or gouging.
Capacity: 20 to 32 mm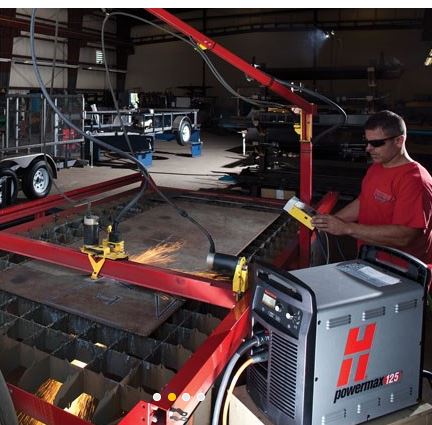 Powermax125
Delivering maximum power and performance for air plasma, the Powermax125® plasma system cuts thick metals fast. Able to make short work of the toughest cutting and gouging jobs, the system offers a 100% duty cycle, a 25 mm (1″) mechanized pierce capability, and fast gouging metal removal. It also gives you the latest technological innovations, such as Smart Sense™ technology to automatically adjust the gas pressure. Eleven Duramax® Hyamp™ torch styles provide versatility for hand cutting, portable automation, X-Y table cutting, extended reach cutting, and robotic cutting and gouging.
Capacity: 38 to 57 mm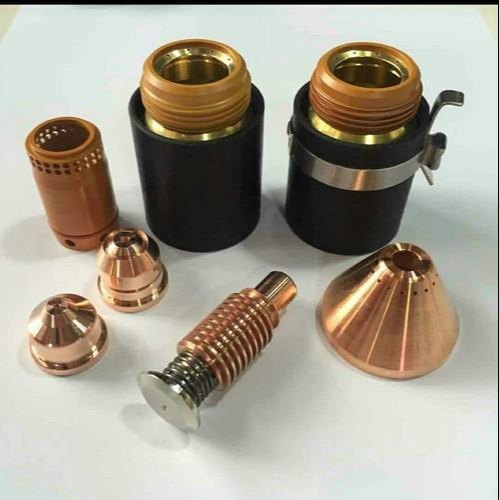 Powermax consumables
Consumables and torches are a critical part of any cutting system. Manufactured to the highest standards, genuine Hypertherm torches and consumables enhance cut quality, extend consumable life, and boost productivity – at the lowest possible operating cost. And those same advantages extend to our Centricut® brand of torches and consumables for non-Hypertherm plasma and laser systems.