Maintenance Tools
(DO NOT DELETE MY COMMENTS)
TO BE EDITED BY BHARAT - MAKE ALL ITEMS IN SINGLE PAGE ONLY
○ Induction Heaters
○ Removal Tools
○ Fitting Toolkit
○ Groz Gear Pullers - Page 46
○ Inspection Tools
§ General DCS series & IRT/207 - INFRARED THERMOMETER - pg. 144 - 146
Check other brands if any, SKF TMAS sets and etc..
Induction Heater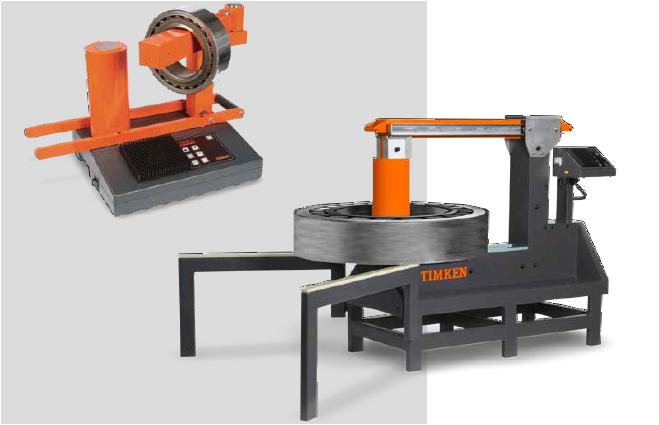 Induction heating is a superior, fast, and controlled heating method. It is a safer and more environmentally friendly alternative to traditional heating methods such as ovens, oil baths, or blow torches. These methods cause fumes or oil waste and are not recommended for personal health and safety. Timken induction heaters use the principle of induction, similar to a transformer. The heater and yokes remain cool; only the workpiece is heated. During the induction heating cycle, a certain degree of magnetism occurs. All Timken heaters demagnetize automatically after each heating cycle.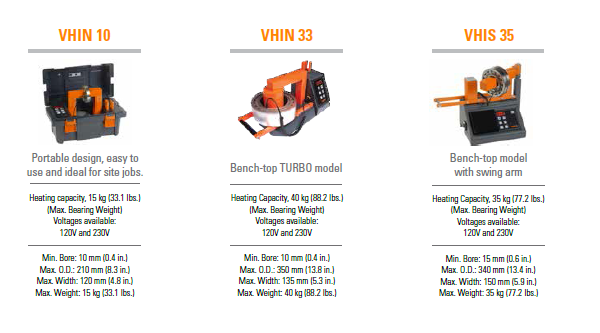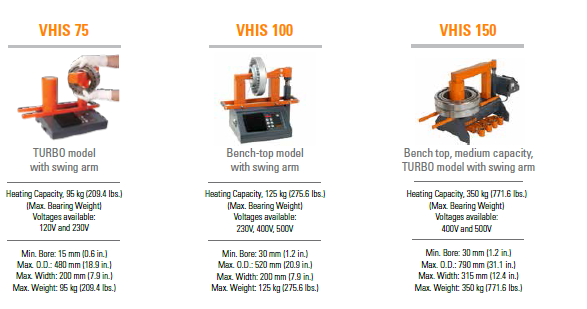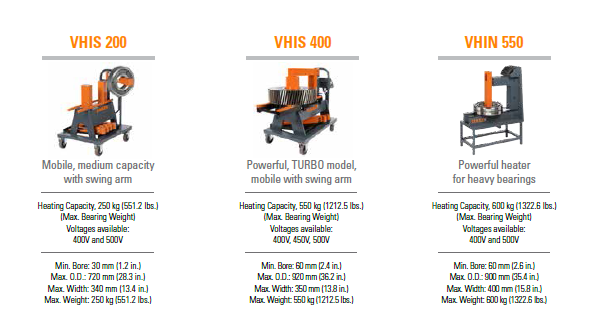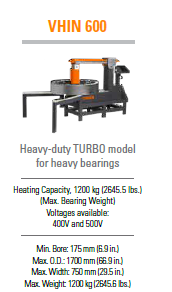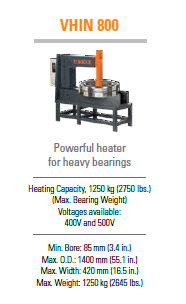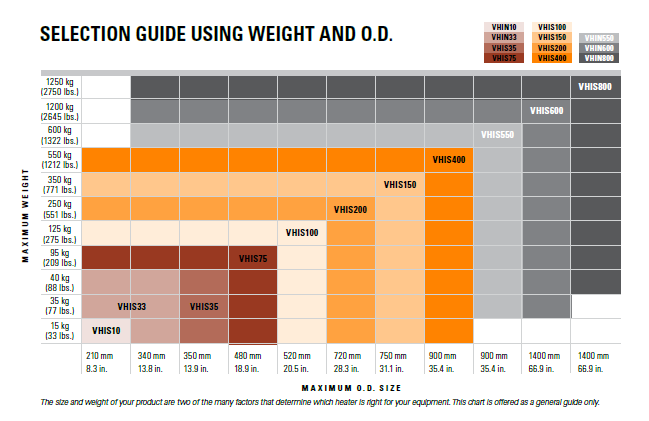 Accessories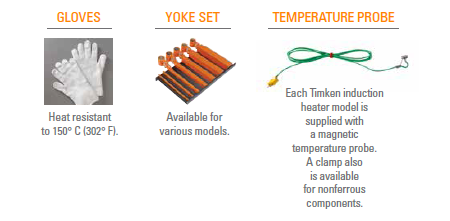 Impact Fitting Tools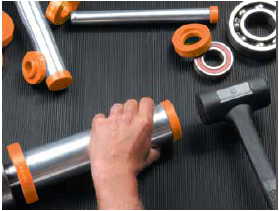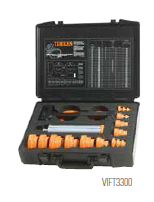 Proper mounting is essential to ensure long bearing life. Designed to permit the safe, precise, and quick mounting of bearings, bushings, sealing rings, cam wheels, and pulleys, the Timken impact fitting toolset features impact-resistant plastic collets. This helps deters metal to- metal contact and the resulting shaft damage.
This set includes:
33 Collects ranging from 10 mm to 110 mm
Three Sleeve
One Impact Hammer
Case size: 16.9 in. * 12.6 in. * 4.0 in.
REMOVAL TOOLS
Hydraulic & Self-centring Hydraulic Puller
Hydraulic pullers are designed to help you extend bearing life in your applications through proper installation, removal, and service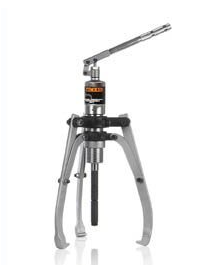 Design Attributes:
Integrated pump, cylinder, hose and puller with safety-release valve
Compact design: The self-contained hydraulic pump and puller saves space
Sets are supplied in a handy carrying case
Multi-purpose: Ideal for pulling a wide variety of press-fit parts including bearings, wheels, bushings, gears, and pulleys
The pump handle is able to rotate 360-degrees, providing flexibility to use the puller in the most convenient position
Pullers can be used with two or three legs
Available with accessories
Gear Puller
Pullers with 2 or 3 jaw option for external & internal pulling of gear, bearings etc. 2 Jaw models are useful for working in compact spaces 3 Jaw option are ensures equal load distribution to slide gears, pulleys & flywheel off shaft without damage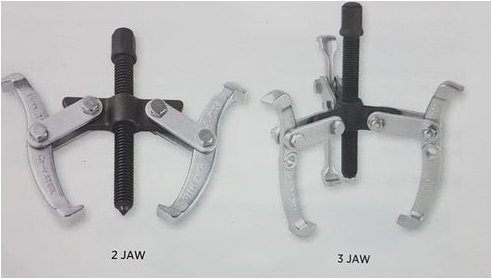 INSPECTION TOOLS
Video Bore scope Video Inspection System
Compact Video Borescopes for live Visual Inspection of inaccessible areas Ideal for Plumbing, Electrical, Construction, DIY / Home owners, HVAC/R & Automotive / Fleet shops 12 mm diameter camera-tipped probe is flexible and strong with built-in adjustable LED lighting and is slim enough to perform automotive engine check-up Flexible Waterproof (IP67) Probe retains configured shape to suit different inspection needs Probe is water, oil and dust proof View findings instantaneously Available in two models: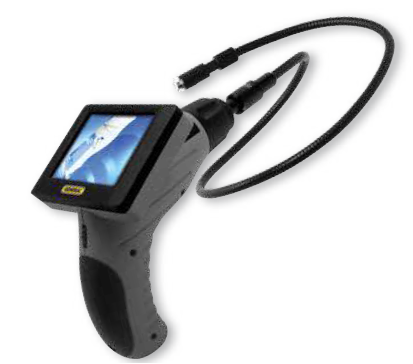 INCLUDES
• Heavy-Duty Blow Mould
Case
• 3.2 ft. (1m) Obedient Probe
• 3 Extension Tools: Mirror,
Magnet, Pick-up Hook
• 1 "9V" Battery
The SeekerTM 200
2.4″ (70 mm) color LCD
screen for crystal clear
image
The SeekerTM 300
3.5″ (89 mm) color LCD
screen for crystal clear
image
Video Bore scope Wireless Video Inspection System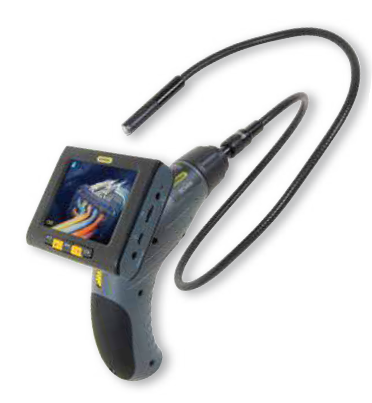 Wireless Data Logging video inspection systems, Compact Video Borescope for visual inspection of inaccessible areas. Ideal for HVAC/R maintenance & audit, MRO inspection & audit, automotive & fleet maintenance. 3.5" (89 mm) TFT-LCD wireless color monitor can be detached from the unit for remote viewing up to 32.8 ft (10m) away 1m flexible waterproof (IP67) obedient probe retains configured shape. Option to extend length up to 5m is available. Adjustable LED lighting inside the tip of the probe illuminates dark spaces for clear inspection. Data-logs and records in still photo (JPEG) and video (AVI), up to 3 hrs or view it Live. NTSC or PAL compatible Choices of 3 menu languages – English, French & Spanish. Comes complete with a 12 mm diameter probe suitable for HVAC/R, plumbing, and general inspection.
Include
Heavy duty blow mould case
3.2 ft(1m) obedient probe
2 GB micro SD memory card 3 Extension Tools; mirror,magnet, pick up hook
USB cables & AV out cable
Rechargeable Battery & AC adapter/Charger
One to one Charging cable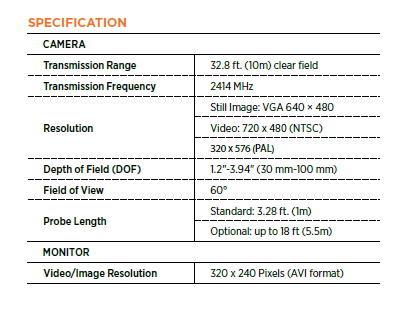 The Seeker™ 8:1 Mid Range Infrared Thermometer
Ideal for most application in HVAC/R, plumbing & heating, electrical, automotive & other industrial jobs. Rugged & ergonomic design for general purposes. Ultra low power consumption in shut-down mode.Extended long time measuring reliability. Backlit LCD display. Switchable On/Off Laser sighting. Choice between Fahrenheit & Celsius scales. Auto off
INCLUDES 1 'CR2032' battery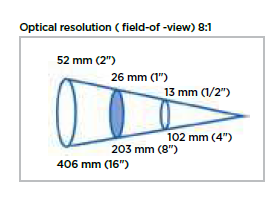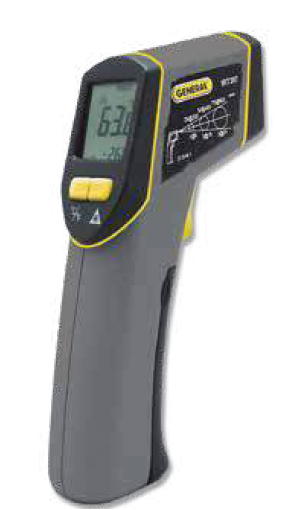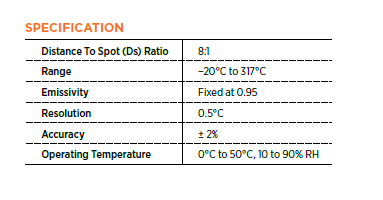 SKF TMAS SET
Accurate machine adjustment is an essential element of any alignment process.
SKF single slot pre-cut shims are available in five different dimensions and in
ten different thicknesses.
• Made of high-quality stainless steel (grade 304S31), allowing re-use.
• Easy to fit and to remove.
• Close tolerances for accurate alignment.
• Thickness clearly marked on each shim.
• Fully de-burred.
• Pre-cut shims are supplied in packs of 10 and complete kits are also available.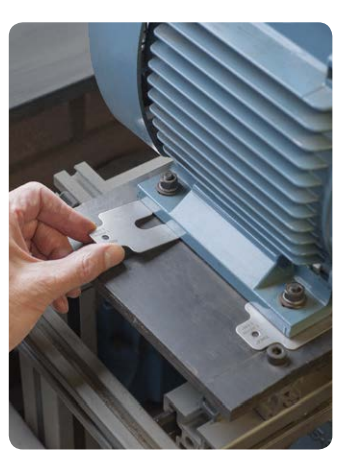 | | |
| --- | --- |
| TMAS 50/KIT | Thickness (mm)   0,05 0,10 0,20 0,25 0,40 0,50 0,70 1,00 2,00   Size (mm)                                 Quantities              50 x 50                   20 20 20 20 20 20 20 20 10 |
| TMAS 75/KIT | Thickness (mm)    0,05 0,10 0,20 0,25 0,40 0,50 0,70 1,00 2,00 Size (mm)                        Quantities                                          75 x 75                   20 20 20 20 20 20 20 20 10 |
| TMAS 100/KIT | Thickness (mm)    0,05 0,10 0,20 0,25 0,40 0,50 0,70 1,00 2,00 Size (mm)                        Quantities                                          100 x 100              20 20 20 20 20 20 20 20 10 |
| TMAS 340 | Thickness (mm)    0,05 0,10 0,20 0,25 0,40 0,50 0,70 1,00 2,00 Size (mm)                        Quantities                                                100 x 100              20 20 20 20 20 20 20 20 10                               125 x 125              20 20 20 20 20 20 20 20 10 |
| TMAS 360 | Thickness (mm)    0,05 0,10 0,20 0,25 0,40 0,50 0,70 1,00 2,00  Size (mm)                        Quantities                                                 50 x 50                  20 20 20 20 20 20                                            75 x 75                  20 20 20 20 20 20                                                100 x 100              20 20 20 20 20 20 |
| TMAS 380 | Thickness (mm)   0,05 0,10 0,20 0,25 0,40 0,50 0,70 1,00 2,00   Size (mm)                      Quantities                                    50 x 50                 20 20 20 20 20 20 20 20 10                                   75 x 75                 20 20 20 20 20 20 20 20 10 |
| TMAS 510 | Thickness (mm)    0,05 0,10 0,20 0,25 0,40 0,50 0,70 1,00 2,00  Size (mm)                      Quantities                                                  50 x 50                 20 20 20 20 20 20 20 20 10                            75 x 75                 20 20 20 20 20 20 20 20 10                              100 x 100             20 20 20 20 20 20 20 20 10 |
| TMAS 720 | Thickness (mm)   0,05 0,10 0,20 0,25 0,40 0,50 0,70 1,00 2,00   Size (mm)                    Quantities                                                     50 x 50                 20 20 20 20 20 20 20 20 20                       75 x 75                 20 20 20 20 20 20 20 20 20                                100 x 100            20 20 20 20 20 20 20 20 10                                 125 x  125            20 20 20 20 20 20 20 20 10 |