Fuel Handling Equipment & Accessories from Groz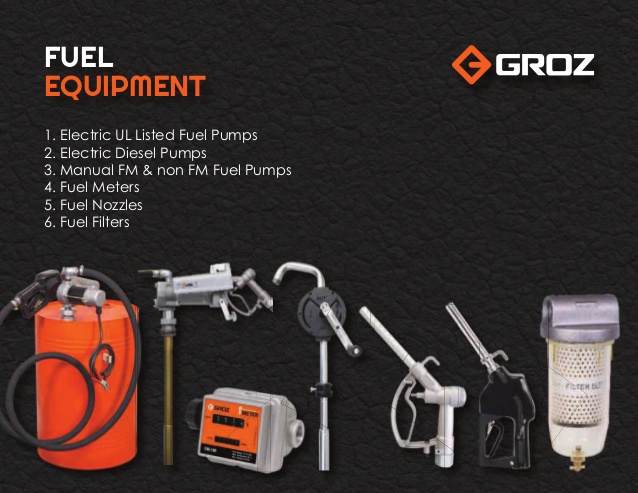 Heavy duty industrial grade fuel pumps and accessories designed for everyday use in agriculture, construction, automotive & industrial applications. Rain & weather proof for tough outdoor use. Lightweight, yet strong.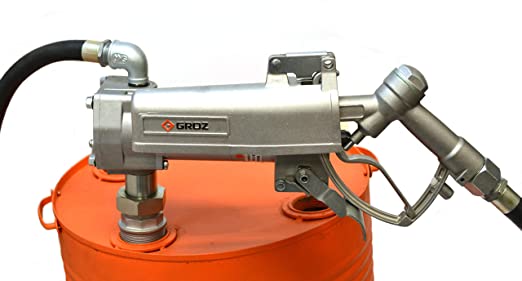 Explosion Proof Electric Fuel Pumps (12 / 24 V DC)
Rain & weather proof for tough outdoor use. Lightweight, yet strong non corroding aluminum die cast construction. Geared pump design using precision sintered metal gears, makes the pump tolerant to contaminants in fuel, in addition to offering
tremendous suction & minimal noise. UL & cUL listed motor. Select models available with meter & filter.
Duty Cycle: 30 minutes on/ 30 minutes off.
RECOMMENDED USE: Petrol , Diesel, E-15 Fuel, Kerosene, Bio Diesel
FLOW RATE: Upto 57 LPM*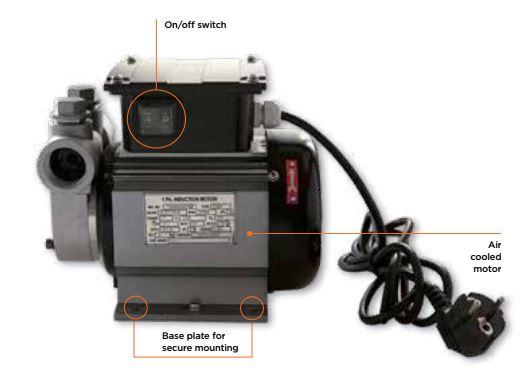 Continuous Duty Electric Diesel Pump – 220 V AC
Diesel Transfer Pump, ideal for use on stationary tanks, fixed fuel transferring systems & dispensers and other similar industrial applications. Lightweight, yet strong non corroding aluminium die cast construction. Self priming vane pump.
Continuous Duty Cycle: with
thermal overload protection
RECOMMENDED USE: Diesel & Kerosene
FLOW RATE: Upto 56 LPM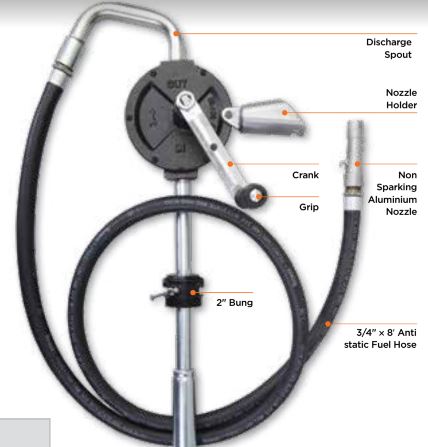 Industrial Rotary Fuel Pumps
Heaviest duty pumps, ideal
for tough outdoor use in extreme weather conditions.
Deliver media with a head /
lift upto 20′ (6 metres). Solid cast iron construction. Graphite vanes are self lubricating & non wearing. Self priming operation. For use with 50-210 litre barrels. DO NOT USE WITH water based media.
RECOMMENDED USE: Petroleum based fluids, Diesel, Petrol & Kerosene.
FLOW RATE: Upto 38 LPM
Accessories