Cooling Tower Motor & Drive System
(DO NOT DELETE MY COMMENTS)
Page to be edited by Pranay - Source from ABB & Baldor Website and our Technical Details Folder - 
CHECK OUR 2016 VERSION CATALOG IT HAS A PAGE ON BALDOR DIRECT DRIVE MOTOR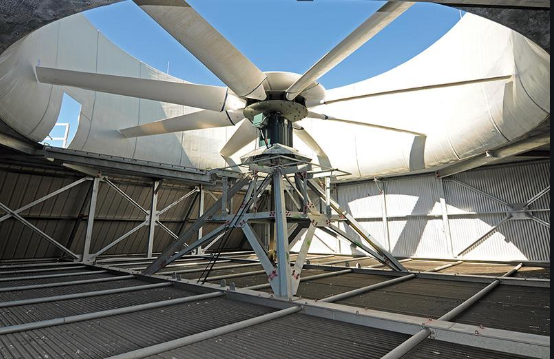 Basic information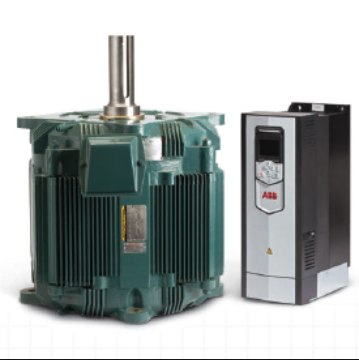 By combining the technologies of the field proven and power dense AC laminated
frame RPM AC motor with high performance permanent magnet (PM) salient pole
rotor designs and the matched performance of an adjustable speed drive, Baldor
Electric can offer high torque direct drive motors for cooling tower applications
with all the benefits of variable speed control and eliminating the cost and
maintenance required for traditional gearbox or belted solutions. The fan couples
directly to the motor and is controlled by a unique AC drive to provide optimal
speed and cooling tower performance that runs quieter with reduced energy
consumption. The drive is designed to accommodate the most common industrial
communication protocols.
Design attributes and Features

RPM AC cooling tower motors are available in either flange mount or foot mount
designs for mounting in the air stream. The flange mount units are designed to be
interchangeable with many popular gearbox bolt hole mounting configurations. Shaft
height, diameter and flange mounting dimensions can be directly interchangeable
with some existing cooling tower gearbox designs. Higher motor torque ratings are
available using taller motors when space is available. In addition, traditional foot mount
construction is available.
Increased efficiency and power factor performance
Operates at optimal system efficiency point with variable speed control
Increased system reliability with fewer mechanical parts
Simplified installation or retrofit with gearbox foot print
Inpro/Seal® combination slinger and labyrinth non-contact shaft seal protects motor from water ingress and contamination
Easy to use drive control parameters
Interfaces easily to building automation control systems
Replaces high maintenance conventional gear and belt drive arrangements
Quieter operation than conventional motor/gearbox system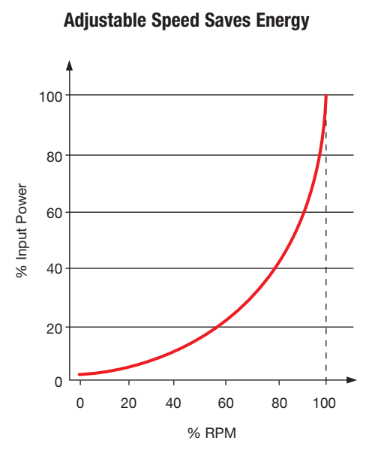 Energy saving
By optimizing motor speed considerable energy can be saved. The entire cooling tower system must be designed for the "Worst Case" (or highest air flow) scenario. For optimum system performance the fan may need to operate at reduced speed.
As the speed of the motor is decreased, the air flow drops in a corresponding linear fashion. So, for example, if the motor runs at only 50% speed, the air flow is correspondingly reduced to 50% of maximum air flow.
Technical catalog