Timken Greases
(DO NOT DELETE MY COMMENTS) TO BE EDITED BY DINESH –  REFER TECHNICAL DETAILS FOLDER &
YOU ARE MORE AWARE OF HOW TO MAKE THIS PAGE as LEADING THIS PAGE
○ Timken Greases (Automative Grease) and GO Series of Groz – pg. 279-283
Timken Automotive Grease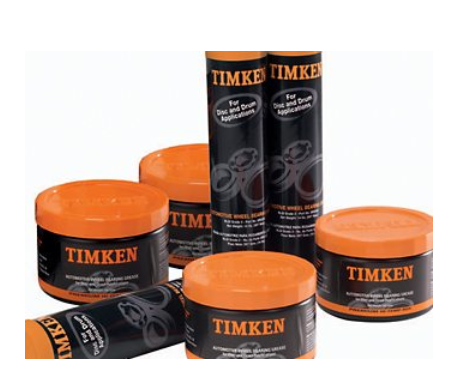 This premium, hi-temp, red grease is specifically formulated to handle the demands of both disc and drum bearing applications. It contains corrosion inhibitors and anti-wear and water-resistant additives, offering superior protection in challenging environments.
The National Lubrication Grease Institute (NLGI) certifies this grease to meet the top-rated performance levels in both the chassis grease category (NLGI LB) and the wheel bearing grease category (NLGI GC).
Design Attributes
Features an NLGI No. 2 lithium- complex thickener that resists softening and provides the mechanical stability required for demanding applications.
Has a 55 Timken OK Load, which means superior load-carrying capability.
Contains corrosion inhibitors and anti-wear and water-resistant additives for extra protection.
Features and Benefits:
• For disc and drum applications
• NLGI GC-LB certified
• NLGI No. 2 lithium complex
• Anti-wear additives
• Corrosion inhibitors
• Water-resistant additives
• Wide operating temperature range -40ºF to 300ºF (-40ºC to 149ºC)
• Reusable, high impact container
• Screw-top lid
• 55 lbs. rating offers superior load-carrying capability
Groz Lubricants & Penetrant
GO-12 : Rust Remover Gel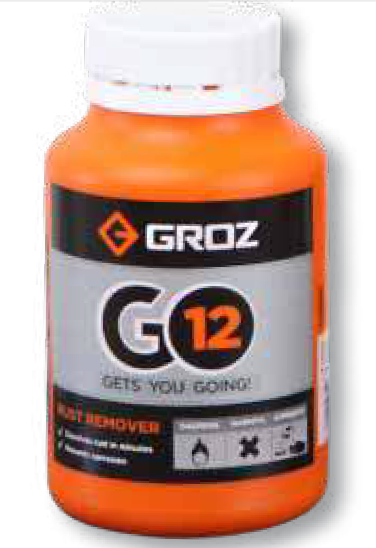 GO-12 is a unique non abrasive solvent blended
rust remover
Prevents & removes hard rust without using any
abrasive material
It loosens rusted parts & removes hard rust from
metal components in minutes preparing the
surface for priming and repainting
Ideal for use in garages, homes, workshops or
farms for rusty tools, equipment & fittings
APPLICATIONS INDUSTRIES
PASSENGER
CARS
BIKES COMMERCIAL
VEHICLES
FARM
EQUIPMENT
CONSTRUCTION
EQUIPMENT
INDUSTRIAL
MACHINERY
MARINE HOME
GO-20 :Rust Preventive Lubricant Spray
GO-20 is a multi-purpose industrial spray that can
be used as a lubricant, a rust remover, a moisture
displacer & cleaning and protecting agent. Very
useful in mechanical maintenance
The GROZ GO-20 is the
Ultimate Moisture Displacer
Exceptional water displacement properties, it is
ideal for use in humid environments
Powerful Rust Repellent
Unique composition of GO-20 creates a longlasting
firm layer on the surface that prevents
rusting
Effective Lubricator
Up to 7 times more effective than most leading
brands
Super Cleaner
Powerful cleaner that removes oil, grease, grime,
wax, tar, gum etc.
GO-20 USES
• CO2 as a propellant makes GO-20 safe for use even in flammable environments
• Can be used on ferrous and non-ferrous metals,most paints, rubbers,
plastics and coatings
APPLICATIONS INDUSTRIES
PASSENGER
CARS
BIKES COMMERCIAL
VEHICLES
FARM
EQUIPMENT
CONSTRUCTION
EQUIPMENT
INDUSTRIAL
MACHINERY
MARINE HOME
GO-10 : Penetrating Rust Solvent Spray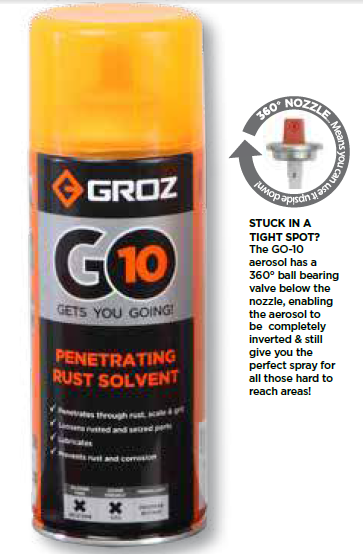 GO-10 is a quick acting penetrating rust solvent
spray
Lower density than water gives it excellent
penetrating power & releasing capability
The penetrating property of GO-10 along with it's
release action helps in loosening of rust, scale &
grit from bolts, knobs, hinges, bearings, castings,
machined components etc.
Protects against rust & corrosion reducing friction
and wear
Lubricates effectively for smooth movement
Ideal for applications where long term corrosion
prevention may be required such as sea
transportation or storage
Prevents use of an Acetylene torch to loosen
seized fittings
APPLICATIONS INDUSTRIES
PASSENGER
CARS
BIKES COMMERCIAL
VEHICLES
FARM
EQUIPMENT
CONSTRUCTION
EQUIPMENT
INDUSTRIAL
MACHINERY
MARINE HOME