Lubrilog Speciality Grease
(DO NOT DELETE MY COMMENTS) TO BE EDITED BY DINESH – REFER TECHNICAL DETAILS FOLDER &
YOU ARE MORE AWARE OF HOW TO MAKE THIS PAGE as LEADING THIS PAGE
○ Lubrilog – Speciality Lubricants – video link /meta- kluber & google
§ Trials and recommendations, Videos

About Company

Since 1987, LUBRILOG is specialized in development and manufacturing of special lubricants and more specifically perfluorinated lubricants, exclusively formulated with raw materials from SOLVAY SPECIALITY POLYMERS®,world leader in this market, who is our privileged partner for more than 20 years. LUBRILOG offers various lubricants for all specific needs…

Our history

In 1987, a team of engineers specialized in lubrication decided to combine their skills to propose very high quality lubricants to specific industrial markets.
In 2009, we moved to new facilities (office and manufacturing unit) in Romans sur Isère in order to comply with the requirements of our customers acting in leading industries (nuclear, aerospace, automotive, pharmaceutical, etc.). From now on, we are able to manufacture all our perfluorinated lubricants in a dedicated white room and without possible contact with other specialty lubricants produced in our plant. Our organization and our high technology equipments allow us to offer our customers very high quality lubricants. Today, our company is certified ISO 9001 (Romans-sur-Isère plant)
Specialty Lubricant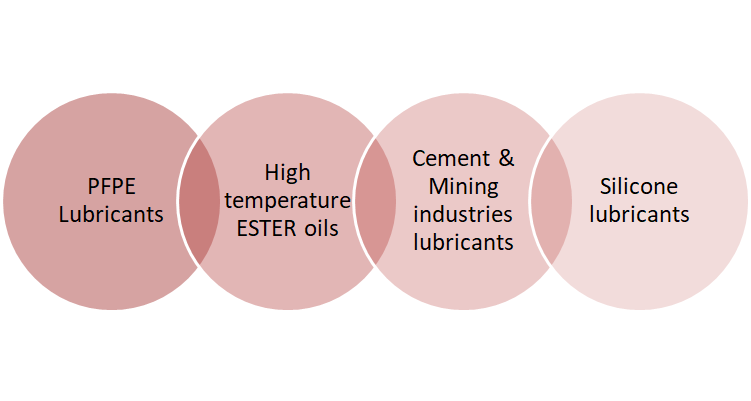 Product range and Application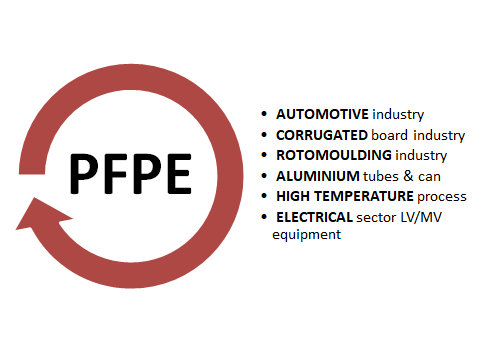 Perfluorinated lubricants represent a complete range of oils and greases intended for applications where extreme resistance and life time are necessary.
PFPE lubricants show the following remarkable technical characteristics:
Extraordinary stability at high temperatures
Excellent chemical inertia (aggressive gas and fluids)
Non-flammable
Total compatibility with plastics and elastomers
Extreme duration
Very low friction
Very low vapour pressure
Totally non residual
Good resistance to nuclear radiations
No toxic
Thanks to its unequalled technical performances, this kind of lubricant allows to increase the duration of the material while reducing the maintenance costs.
References
Car manufacturers : RENAULT, PSA, VOLKSWAGEN, AUDI, BMW…
Automotive equipments manufacturers : HUTCHINSON, VALEO, MGI COUTIER, LEONI, ROBERT BOSCH, FAURECIA, MICHELIN, COOPER STANDARD…
Electrical equipments : SCHNEIDER ELECTRIC, CONNECTEURS DEUTSCH…
Corrugated industry : AGNATI, SMURFIT KAPPA, EUROPAC, DS SMITH, EMIN LEYDIER, INTERNATIONAL PAPER…
Miscellaneous : AREVA, AIR LIQUIDE, BOSCH REXROTH, CROWN PACKAGING..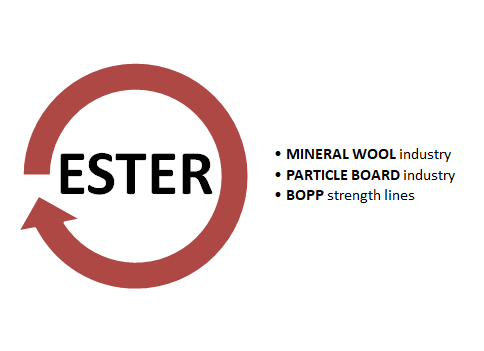 Low-residual synthetic Ester oils from ESTAR® range for curing oven convoying in WOOD industries (continuous presses), INSULATION (polymerization curing oven and dryers), ALUMINIUM PACKAGINGS and CONVEYORS.
ESTAR® oils are efficient up to 280°C in continuous and when the environment is inevitably dusty or polluted by the manufactured products.
Advantages
Elimination of fire risks                                                                                            
Reduction of draft force and wear                                                                         
Reduction of maintenance costs                                                                             
Increase the shelf life of the chains
References
Insulation : KNAUF INSULATION, SAINT GOBAIN – ISOVER, URSA, etc.
Wood panel boards : ISOROY.
Gypsum panel boards : KNAUF, SINIAT, SAINT GOBAIN, etc.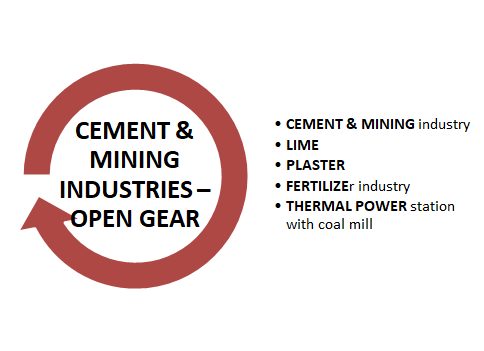 For more than 25 years, LUBRILOG is specialized in production of very high quality lubricants for the lubrication of Open Gear drives in raw material industries (Mining industry, Cement plants, Fertilizer industry, Power stations (coal), Steel, Aluminum, Chemical, Environment, etc.)
In this way, LUBRILOG proposes lubricants for Open Gear Drives but also for fans bearings, Lepol® grate bearings, inlet seals of rotary kiln, floating kiln tyres, etc. Our skills have allowed us to obtain the FL Smidth approval for the whole of our range, in addition to our current approvals METSO MINERALS, FIVES FCB, FERRY CAPITAIN, CMD, etc.
Our technical department is able to provide an analysis or an advice for each plant anywhere in the world thanks to its experts in Open Gear Drives lubrication. LUBRILOG offers free technical support to all its customers through regular visits in plants and detailed reports of the monitoring equipment.
We have also developed an innovative cleaning solution in service : LUBRICLEAN EP.
Considering the cost of a production shutdown of a kiln or a mill, this solution enables in 1h30 maximum and without production stop, to ensure a cleaning of the equipment and to extend its life time (by reducing abrasive wear).
Our references
Cement plants customers : LAFARGE, ITALCEMENTI, HOLCIM, VICAT, SECIL, etc.
Mining industry customers : CODELCO, ANGLO-AMERICAN, NICICO, MANAGEM, etc.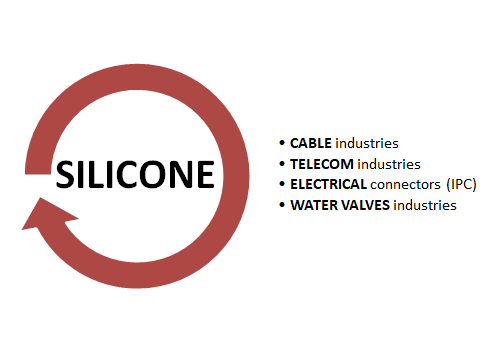 Conceived from a selection of silicon oils the complete range of SILOG® and STARSIL® greases serve a wide range of applications involving friction. They reduce friction, offer sealing and serve as assembly aid for mounting modern materials such as plastics, elastomers, mixed assemblies (metals/plastics) over a wide range of temperatures without any toxicity.
Advantages :
Very good compatibility with plastics and elastomers
High stability at extreme temperatures
Excellent anti noise properties
Excellent viscosity index: 400
Good adhesion properties, depending on grades
Very low friction in presence of PTFE
Totally non toxic and odourless