Grenoveld & Beka
Lubrication Systems
There's a lot to be said for the right amount of lubrication at the right time, consistently over the life of a machine. Groeneveld® and BEKA® progressive, dual- and multi-point lubricators regularly dispense precise amounts of grease, saving time and money over manual application.Since 2019, BEKA is part of The Timken Company, a world-leading producer of bearings and power transmission products with headquarter in Canton, Ohio, USA
Automatic lubrication systems
Automatic lubrication of components that needs lubrication like bearings, gears, pins and bushes will save you many hours of manual lubrication. Moreover, the equipment is lubricated during operation or driving, a significant difference with manual lubrication. Together with the extended life span of crucial components, this will ensure that every Groeneveld automatic lubrication system has a quick return on investment. Moreover, maintenance personnel do not constantly have to be present on site. And maintenance personnel do not have to crawl under and climb over the equipment in order to lubricate hard to reach points. This makes a Groeneveld automatic lubrication system a smart investment in machine and truck availability, efficiency, productivity and safety. The benefits in a glance:
Enhanced life time of pivots, bearings, pins and bushings
Reduced repair and maintenance costs
Reduced grease consumption (up to 50%)
Enhanced uptime and machine productivity
Higher residual value of machine or vehicle
Lubrication systems by technology
There is always an automatic lubrication technology to suit your business needs. Groeneveld offers Single Line, Dual Line, Multi Line and Progressive systems.
Single Line Lubrication

Dual Line Lubrication

Multi Line Lubrication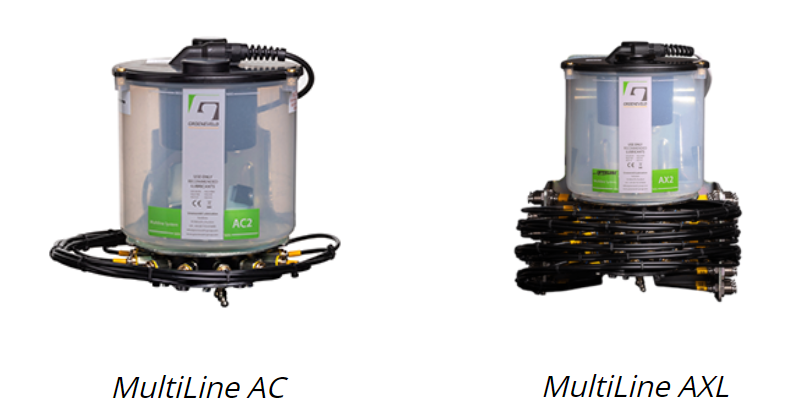 Progressive Lubrication