Dodge Complete Units & Solid-Lube
Basic Information
Dodge was founded in 1900 by Horace and John Dodge (The Dodge Brothers). It was initially known as the Dodge Brothers Company and used to sell bicycles but then within two years, it becomes a major supplier of mechanical transmission systems. Dodge offers the most complete line of mounted bearings enclosed gearing and PT components in the industry.
Types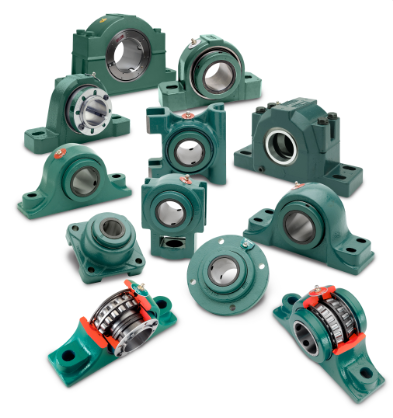 Ball housed unit
Set screw bearing
D-lock concentric clamp collar bearings
SXR eccentric collar bearing
Grip tight adapter mount bearing
Ultra kleen
EZ kleen
Tapered roller bearing and spherical roller bearing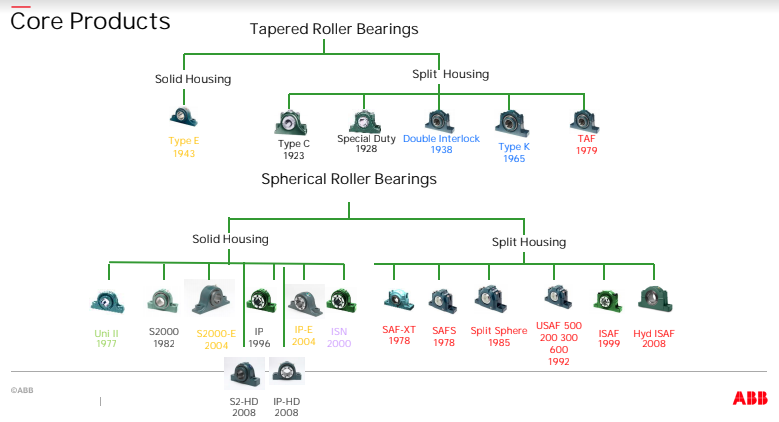 Design attributes
Type E bearing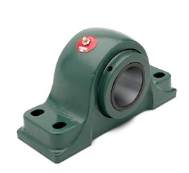 Type E extra bearing
Type E-Xtra bearings are manufactured with high-capacity tapered roller bearing inserts which allow for combination radial and thrust loads; featuring the highest load ratings in the industry achieved by world class design and manufacturing.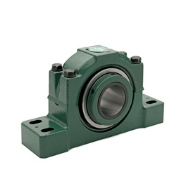 Double interlock bearing
Double interlock is a mounted tapered roller bearing with dual locking collars.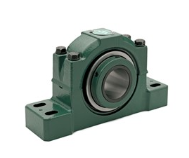 Type K bearings
Type K is a mounted tapered roller bearing with reduced length through bore. Durable twin row tapered roller bearing with single spring lock collar and variety of mounting styles.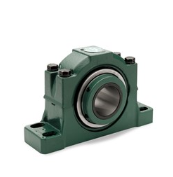 Taf bearing
The Dodge TAF tapered roller bearing is a proven, cost-saving alternative to the SAF spherical bearing with up to 7" bores. Interchangeable with SAF style bearings.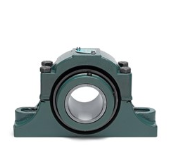 Type EXL bearing
The Dodge Type EXL bearing provides superior sealing, misalignment, and expansion capability as well as the highest load ratings in the industry. Additionally, the split ductile iron housings are dimensionally interchangeable with all "Type E" dimensioned products.
4″ misalignment capability
Solid lube plain bearing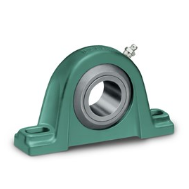 Solidlube is a carbon-graphite bearing used in high temperature and damper and oven applications where lubrication is critical.
It is ideal for slow speeds or oscillating shaft rotation
Self lubricating
Features
2-bolt pillow blocks, 2-bolt and 4-bolt flange units
Ideal for slow speeds or oscillating shaft rotation
Self-lubricating, statically self-aligning
Covers a wide range of temperature extremes
 700 series: -40°F to 700°F (-40°C to 370°C)
1000 series: -200°F to -40°F (-128°C to -40°C) and 250°F to 1000°F (120°C to 537°C)
Ideal where bearings are subject to dry cycles
Nomenclature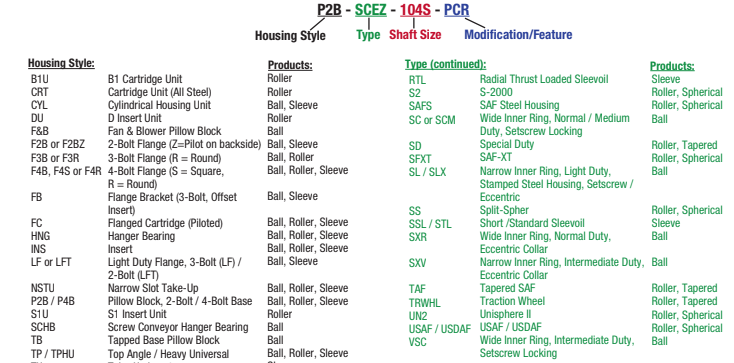 For detailed nomenclature please download below mentioned catalog
Application
Unit and baggage handling
Mining
Aggregate and cement
Air handling
Paper and forest
Technical catalog