Rexnord & Link-Belt Units
About
In Indianapolis Indiana the complete line of Link Belt and MB Ball bearings including intermediate duty, standard duty , medium duty and heavy duty along with Link Belt Sleeve, Link Belt Roller, Link Belt Spherical and Rex are all manufactured and assembled. In Downers Grove Illinois Rex and Link Belt mounted roller bearing components are produced for the Indianapolis plant. The main Downers Grove plant is also a major producer of aircraft bearings used both on commercial as well as military applications. Downers Grove has a smaller plant where the Duralon and Tuflite sleeve bearings are produced. In Clinton Tennessee the Link Belt Cylindrical product is manufactured and assembled.
Design Attributes & Advantages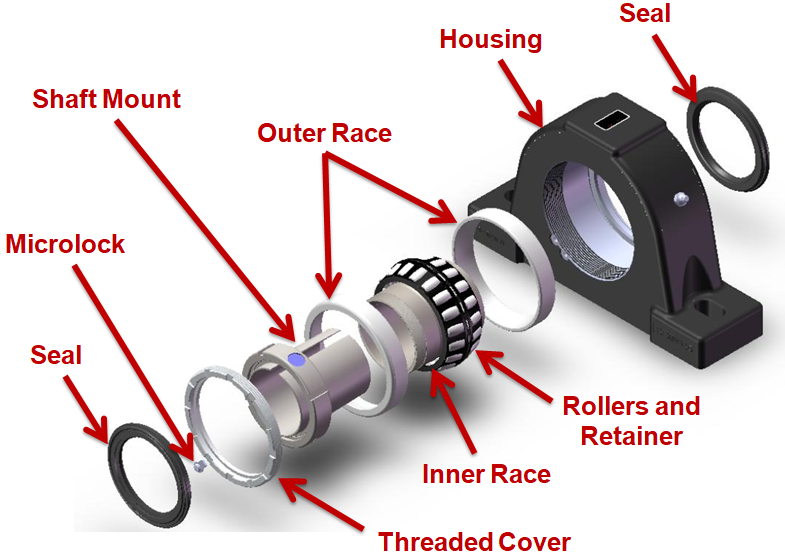 ◾ The first bearing component is the outer race or sometimes called the outer ring. This is the outer most portion of the bearing assembly and is pressed into the housing. Rex and Link Belt utilize a 2 piece outer race design as noted in the drawing. This is different from the majority of our competitors which utilize a single piece outer race design.
◾ The second pair of components is the roller retainer assembly. The retainer is also often called a cage. The rollers are spaced and retained by the retainer to keep them in position while rotating.
◾ Next is the shaft mount mechanism. In this case the drawing shows a Shurlok assembly. There are many different type of shaft mounting device which we be discussed in a latter session, but the main purpose is to lock the bearing to a given shaft size.
◾ To retain the bearing assembly in the housing Rex and Link Belt utilize a threaded cover and microlock assembly. The threaded cover is threaded into the housing holding the bearing assembly in place. The keep the threaded cover from loosening we utilize a microlock screw and key to hold it in place.
◾ The third component is the inner ring or inner race. This is the inner most portion of the bearing assembly and provides the hole for the shaft to go through the bearing.
◾ In order to keep grease in and keep dirt out we must provide some type of sealing arrangement. With Rex and Link Belt, seals are mounted from the outside making them easy to change out and interchange
---
Rolling Element Bearings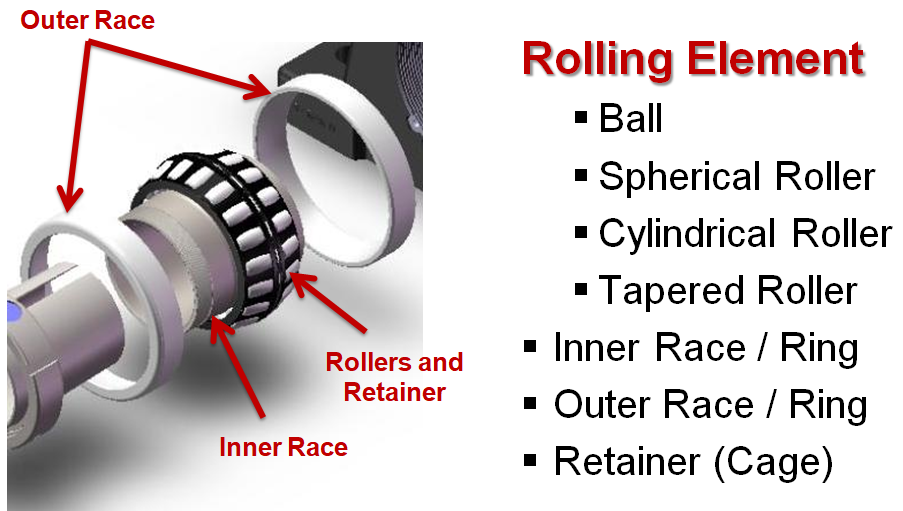 Rolling element bearings consist of rolling elements. There is an outer race, inner race and the rolling element which could be a ball, spherical roller, cylindrical roller or tapered roller. Keeping the rollers spaced and in place is the retainer or cage as it is sometimes referred to.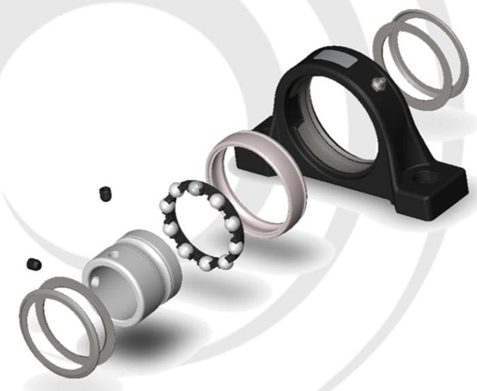 Radial, angular, thrust
High speed, low load
Static misalignment, minimal dynamic misalignment
Jack-of-all-trades
Fairly high speed
High Loads
Customizable
Sealing Capability
Very good Dynamic and Static misalignment
High radial, limited axial loads
Limited misalignment
High axial & radial loads
Little misalignment
Lower speed

Link-Belt Housing Style
Rex Spherical Roller Bearings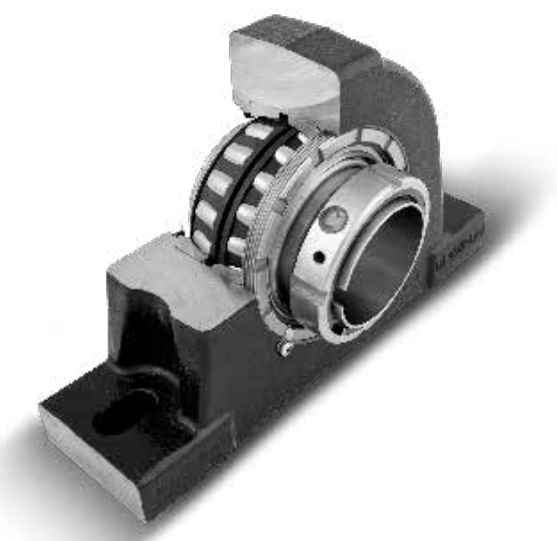 Easy Bearing Clearance Adjustment :- Can be field adjusted to meet application needs.
Replaceable Bearing :- Available in single set collar, double set collar, eccentric lock and adapter mounting to suit load and installation requirements.
Shaft Ready :- Pre-lubricated with our standard grease for normal operation; other lubricants available for special conditions.
Super-finished :- Raceways Super-finished raceways provide a cool running, quiet, high speed and high load capacity bearing.
Rugged Housing :- Standard material — cast iron. Steel or ductile iron available on request.
Multiple Housing :- Styles Providing mounting features to match the operational and structural requirements
For more Ranges go through the link
Link-Belt Solid Housed Spherical
Applications
Billet Press Rolls
Quench Press Rolls
Chippers
Fan and Blower
Pulp and Paper
Construction Equipment
Vibrating Screens
Vibrating Sifter
Bearing Setup
Rotary Ball Mills
Mill Pinion Gears
Food and Beverage
Baggage Handling
Conveyor Equipment
Conveyor Drives
Pulleys
Bucket Elevator
Incline Conveyors
Drag Flight Conveyor