Dodge Sleev-Oil Bearings
Sleevoil bearings or as they are often called as Hydrodynamic Bearings, are ideal for mining, air handling, unit handling, high temperature, and food & beverage applications, they feature patented technologies that reduce maintenance and ensure long service life. Numerous designs allow you to select the best bearing style for any application. In addition, our accessories, and circulating oil systems extend your value. Housings may be drilled and tapped to accept temperature, vibration and speed monitoring devices.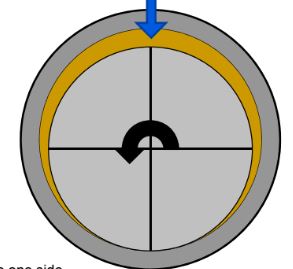 The shaft is separated from the bearing by a continuous film of self pressurized lubricant, generally about 0.001" thick (0.0254 mm). There is no metal-to-metal contact during operation and hence can theoretically have infinite life.
Design features
Fully split for ease of maintenance
Extended life (no metal-to-metal contact during operation)
Handles high speeds
Dampens vibration, provides quiet operation
Self aligning
Thrust capability
External cooling (air, water, or oil) available for hot shafts
Range of Sizes
R Series: 1-7/16″ to 14″ (36mm to 355mm)
RTL Series: 2-15/16″ to 12″ (75mm to 305mm)
Applications
Steel Mills
Mining
Chemical Plants
Cement Plants
Pulp and Paper
Processing Plants
Utilities / Power Plants
Petroleum Processing
Technical catalog : DODGE SLEEVOIL RTL SERIES HYDRODYNAMIC BEARINGS