Ball Housed Units
Utkarsh rerfer – TIMKEN Site

Section 1 – Standard UC Series Ball Housed Units
Refer – https://www.timken.com/en-in/products/timken-engineered-bearings/housed-units/uc-series/

https://www.timken.com/wp-content/uploads/2018/08/U-Series-Ball-Bearing-Housed-Unit-catalog-Global-version-11112.pdf


Selection TOOL – https://cad.timken.com/category/u-series-ball-bearing-housed-units

Internal Link – \M Drive\Common Document Center\Technical Details\Brands\TIMKEN\Products\Housed Units\BBHU

Section 2 – Fafnir Ball Housed Units
Refer – Fafnir® Ball Bearing Housed Units (Includes R, V, Y & S Series)

Total Download Catalog – C:\Users\Mitul\Google Drive\M Drive\Common Document Center\Technical Details\Brands\TIMKEN\Products\Housed Units\BBHU – Ball Housed Unit Catalogue.pdf – 19MB
https://www.ptintl.com/four-shaft-attachment-methods/ /
add video to it 4 Ball Bearing Mounting Methods – Intro, Mounting and Maintenance (Full)
When you choose sturdy Timken housings, your bearings can keep rolling smoothly, even in harsh environments impacted by dirt, debris, water and other contaminants. Timken engineers designed special housings to withstand tough challenges on the job.
TIMKEN UC SERIES
Timken® UC series ball housed units, available in a variety of sizes and types, feature wide-inner-ring ball bearings that provide additional shaft support and locking options. The Timken® wide-inner-ring ball bearing is designed for straight shafts and can be positioned without shoulders, locknuts or adapters.

For easy installation, our ball housed units can be ordered pre-assembled with bearings, housings,seals and locking systems. Choose from pillow blocks, flanged cartridges, take-up units and cylindrical cartridges. Our cast-iron, pressed-steel and other optional materials give you durable choices for the exterior covers. Timken® locking options include set screws, self-locking collars and concentric collars.

Timken® Shaft Guarding Technology deters set-screw damage to shafts by placing a hardened band in the groove along the inner ring of the bearing. The set screws press against the band to transfer gripping pressure onto the shaft, preventing nicks, as well as raised-metal or permanent shaft damage. The stainless-steel band resists corrosion on the shaft. This system is particularly
helpful for applications where it would be expensive and time-consuming to replace shafts.
Types of locking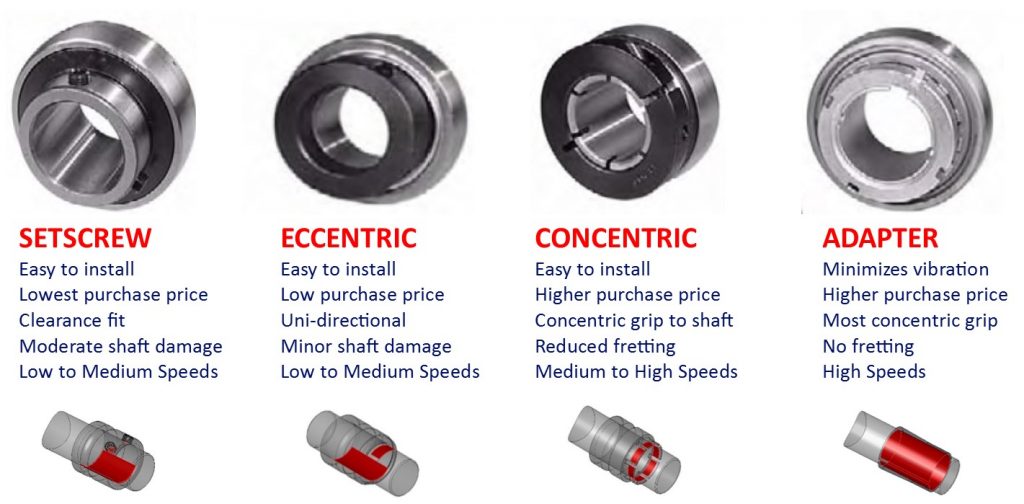 Housing styles and size range
Design Attributes & Advantages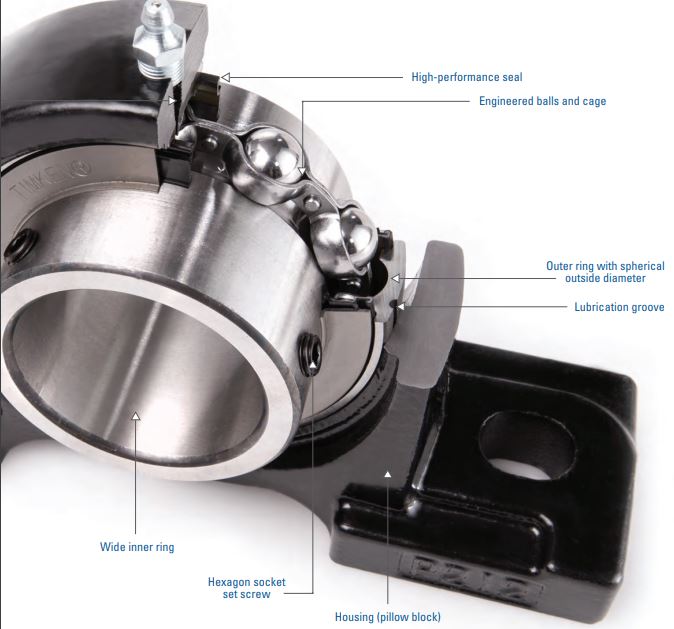 Precision formed flinger: Provides the first level of protection against contamination.
High-performance seal: Bonded nitrile rubber seal with an engineered interface to the inner ring.
Hardened and ground seal land: Helps protect against abrasive wear, extending seal life. Outer ring with spherical outside diameter Engineered fit between
bearing and housing to improve bearing life.
Wide inner ring: Improved shaft support over narrow rings, improving bearing life and reducing misalignment.
Cast-iron housing: Incorporates ISO 185 Grade 200 (ASTM A48 Class No. 30) cast iron. Engineered balls and cage Steel cage provides effective ball guidance and high temperature service capability.
Set screw angle: 120-degree angle minimizes inner ring distortion for
smoother-running bearing.
Premium grease: Pre-lubricated with high-quality lithium-based grease, compatible with most industrial greases.
Lubrication delivery system: Precision-machined lubrication groove and holes in the outer ring of the bearing.
FAFNIR HIGH PERFORMANCE BALL HOUSED UNITS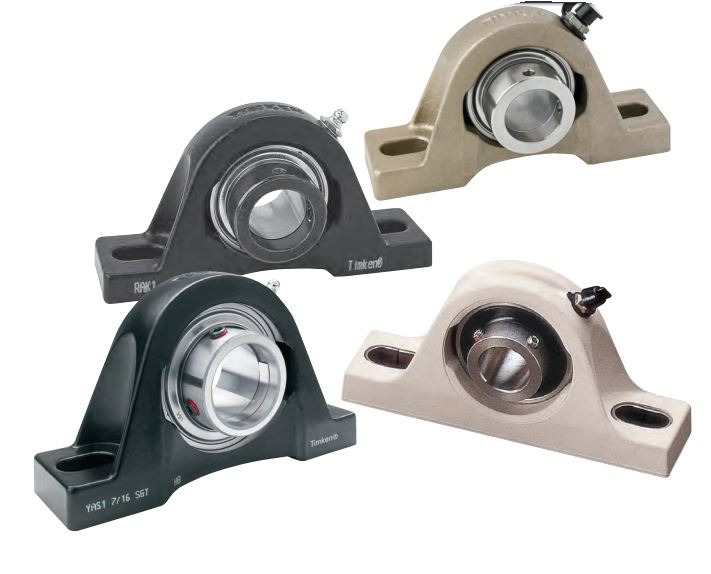 In addition to our standard offering, Timken Fafnir housed units feature specialized product lines to solve specific application concerns. Our problem solver series helps prevent downtime by using superior technology to keep equipment running efficiently and improve your bottom line.
Housing styles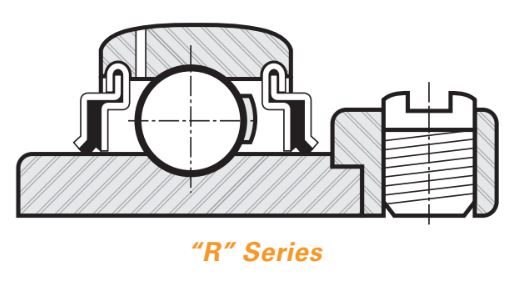 Design Attributes & Advantages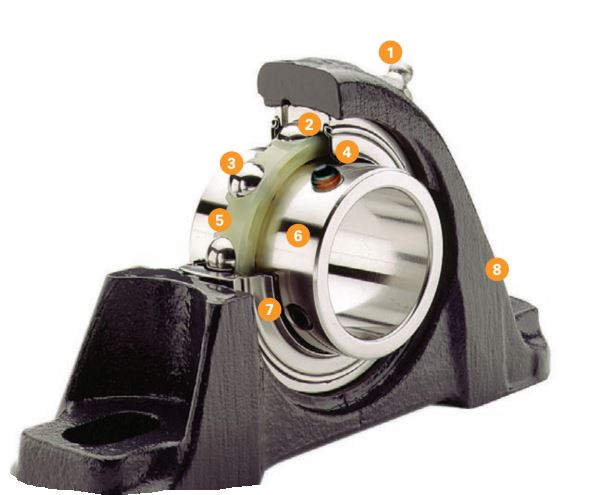 Grease fitting offset: Minimized risk of accidental and side impact, while maintaining accessibility for single-point lubricators.
Fafnir curl: Mechanical attachment of seal is secure, resisting "pop-out" during re-lube and inhibiting spinning of the seal in the outer ring seal groove.
Grade 10 balls: Quiet and smoother-running bearings resulting from higher specification steel and improved roundness.
Buna-N seal material: Buna-N rubber has cotton fiber, embedded to wick oil, which enhances lubrication and improves sealing integrity.
6/6 nylon heat stabilized retainer: Excellent misalignment capability. Resists size changes and moisture trapping. Non-corrosive and self-lubricating, as well as resistant to abrasion, wear and most solvents.
Super-finished raceways: Even surfaces reduce friction, leading to cooler, quieter running and longer life.
Hardened and ground seal land: Seal protected from inner ring abrasion, resulting in less wear (longer life) and prolonged seal integrity.
Powder coat finish: Chipping, scratching and subsequent exposure to parent metal is reduced, helping to prevent corrosion.
TECHNICAL CATALOGS