Quick Flex Couplings
About Coupling Type
Under harsh environmental conditions, couplings are exposed to extreme stresses. Conventional products soon reach their limits, causing high maintenance and repair costs. Elastomeric coupling now offers an interesting alternative in many cases. Timken Quick Flex couplings are durable enough to face extreme challenges yet require minimal maintenance. They are also easy to install and require no lubrication.
Basic Information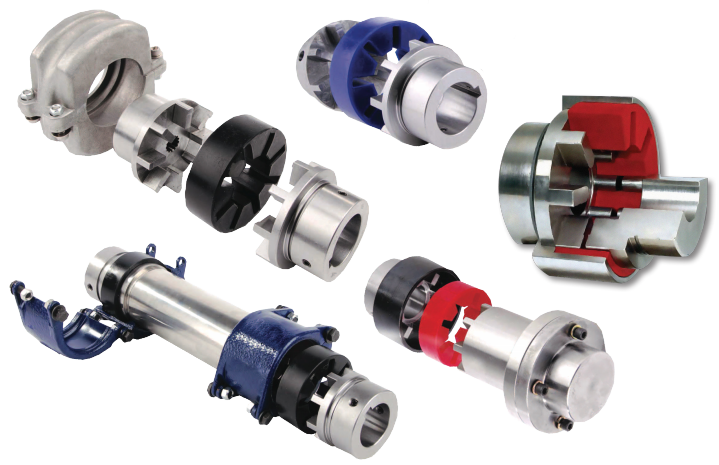 Timken quick-flex elastomeric couplings are designed to withstand harsh conditions. They are easy to install and require no lubrication. The couplings innovative design provides a solution to a wide variety of coupling applications. The hubs are also available in stainless steel for a corrosive environment.
Design Attributes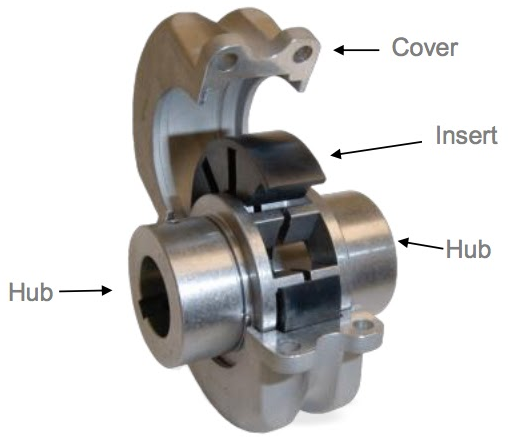 Timken quick flex couplings innovative design features two steel hubs, polyurethane insert, and a cover.
Insert and covers
Quick flex flexible urethane coupling insert are resistant to most chemicals and available four materials for varying temperature and torque needs.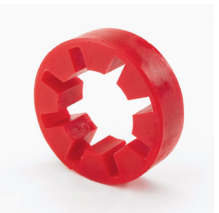 QUICK FLEX RED INSERT (STANDARD)
The standard insert excels in vibration dampening and cushioning of shock loads.
This insert is best for reversing applications or applications with quick starting and stopping of high-inertial loads.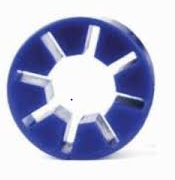 QUICK FLEX BLUE INSERT (HIGH TORQUE)
This insert is well suited for applications with moderate to high torque.
It delivers high torque while maintaining a degree of torsional softness and ability to dampen vibration.
.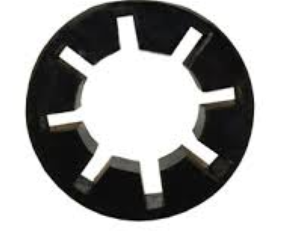 QUICK-FLEX BLACK INSERT
This insert offers the highest torque rating.
Quick-flex coupling with black insert is an excellent replacement for gear type coupling.
This insert offers an operational temperature range of -50° C to 100° C.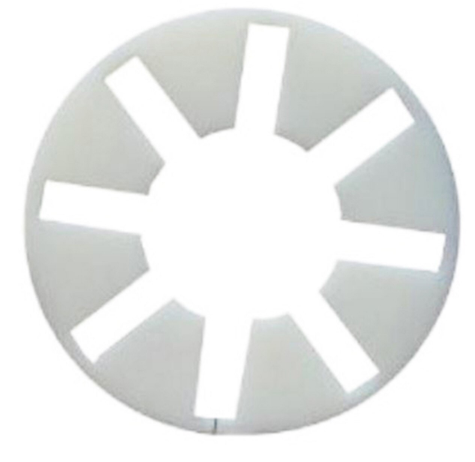 QUICK-FLEX WHITE INSERT (HIGH TEMPERATURE)
Quick-flex white insert is made of a heat-resistant urethane compound for use in application where heat is a concern.
These inserts can handle temperature up to 177° C (350° F) and provide torque capabilities equal to blue insert.
QUICK-FLEX HIGH-SPEED COVER
Quick-flex high-speed covers are designed for application where low torque and/or high speed is present
QUICK-FLEX HIGH-SPEED SPLIT COVER
These covers are ideal in an application where high torque is combined with high speeds while minimizing axial load.
QUICK-FLEX ALUMINUM HIGH-PERFORMANCE COVER
These covers are designed to minimize axial loading in all applications including high or low torque and high or low speed.
QUICK-FLEX LOW-SPEED SPLIT COVER
By minimizing axial loading, quick-flex low-speed split covers excel in applications where there is a high amount of torque and low speed.
Advantages
More uptime-Timken coupling's innovative design helps eliminate mechanical interference between the coupling hubs. As needed we can replace the urethane insert easily and quickly without removing the hub.
Angular misalignment-Accepts shaft misalignment up to 2 degrees.
Reduced inventory– The versatility of the Timken quick-flex design promotes components standardization across your plant, reducing the need to store multiple coupling style.
Low maintenance– Elastomeric coupling requires no lubrication and therefore are low maintenance and very environmental friendly.
Sizes & Selection
Timken quick-flex couplings are available in the range from 10 mm (0.37 in.) to 285 mm (11.25 in.).
Continuous torque handling from 0.043 kNm (377 in.-lbs.) to 188.8 kNm (1,670,826 in.-lbs.).
To select the correct quick-flex coupling for your application use the below-mentioned formula
Design Torque (Nm) = Actual torque (Nm) x service factor

Actual Torque (Nm) = 9550 x kW/RPM
where:
kW = Drive kilowatts
RPM = Driveshaft revolutions per minute
Comparison
Quick-flex couplings transmit a higher level of torque in most cases, compared with the competitive averaged gear coupling rating.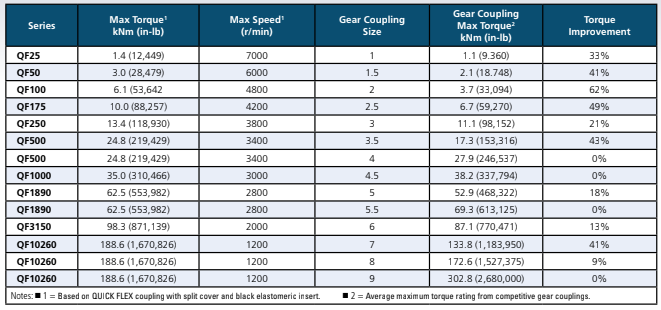 Timken quick-flex couplings comparison with other type of couplings

Nomenclature/Interchange
Standard coupling nomenclature
A complete standard coupling unit consists of
Two hubs
One insert
One cover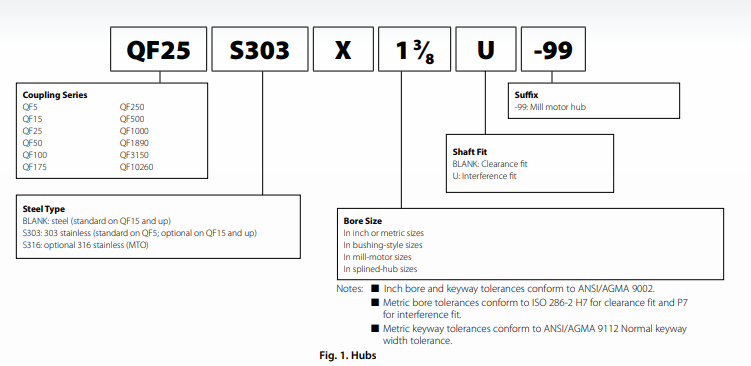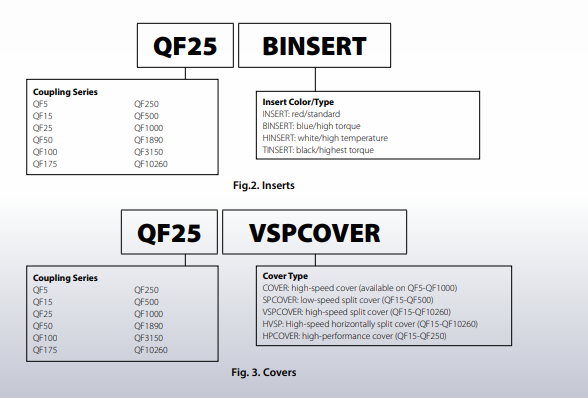 Spacer coupling nomenclature
A complete single-ended spacer coupling unit consists of
One standard hub
One flanged spacer hub
One single-ended spacer body
One insert
One cover
A complete double-ended spacer coupling unit consists of
Two standard hubs
One double-ended spacer body
Two inserts
Two covers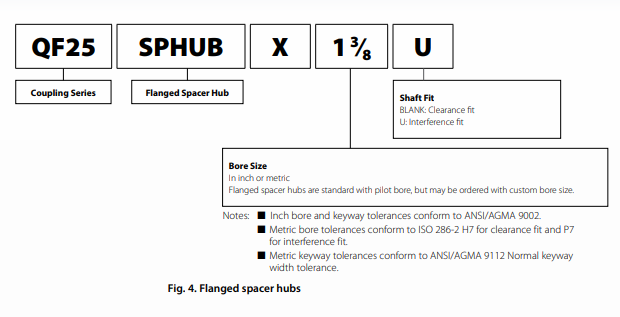 Insert replacement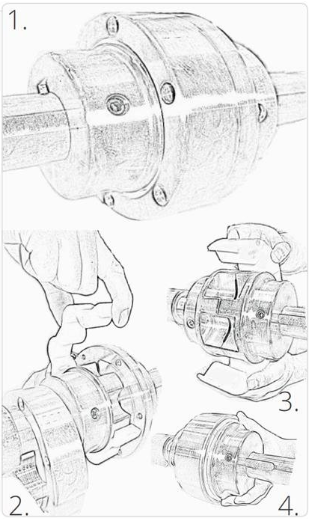 Technical catalog