ABB DODGE Couplings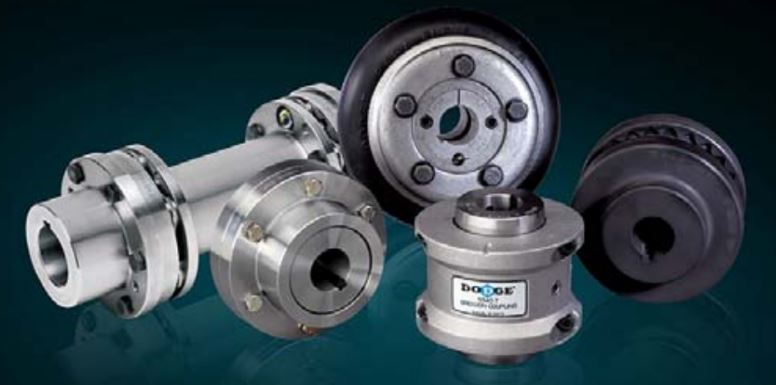 The Dodge coupling product line can offer a solution to almost any customer need. Whether the need is an elastomeric or metallic design, Dodge can provide
a coupling with the potential to increase torque capacity, accommodate shaft
misalignment, extend life, and put an end to unexpected downtime.
Combining Dodge coupling products with the overall ABB, Baldor, and Dodge product lines, customers can order complete system packages containing a variety of designs, sizes, and options. The large product offering allows pump, conveyor, and fan users to have a drive, motor, coupling, gearbox, bearings, and conveyor pulley from the same manufacturer. This ability to provide a single source system design with the product breadth and depth of Dodge is an advantage shared with no other manufacturer in the marketplace.
Dodge D-Flex coupling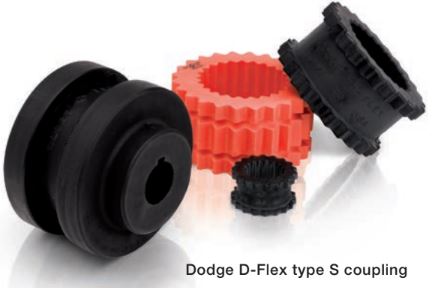 The Dodge D-FlexTM coupling features molded, non-lubricated, interchangeable elastomeric sleeves of EPDM, Neoprene, or Hytrel. Its three-way flexing action accommodates torsional, angular, and parallel misalignment, as well as axial end float.

Dodge Para-Flex flanges (Elastomeric, Tyre style)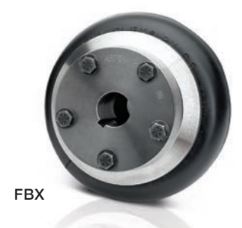 FBX – Finished bore flange.
The ductile iron FBX flanges are
factory assembled and utilize a
setscrew locking mechanism to
insure a quick, easy installation. Also available in BBS – Bored-to-size, TL – Taper-Lock flange & Pre-assembled spacer flange type.

Dodge Grid-Lign couplings (Metallic, grid style)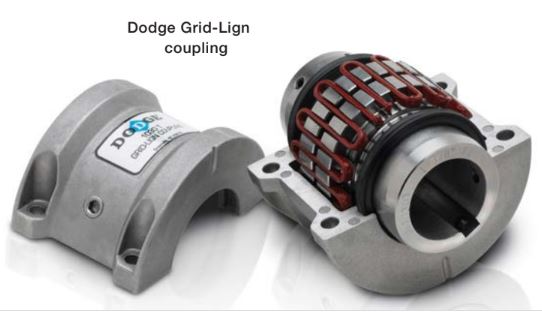 Dodge Grid-Lign couplings are available in a variety of sizes, in both standard and spacer styles. Every coupling features two steel shaft hubs, a tapered grid element, two seals and a cover assembly. Its versatile design allows for a motor or reducer output speed connection, and its speed capability ranges up to 6,000 RPM. Spacer offering can be used as a spacer coupling, or mounted to a brake disc or drum.

Dodge Disc couplings (Metallic, disc style)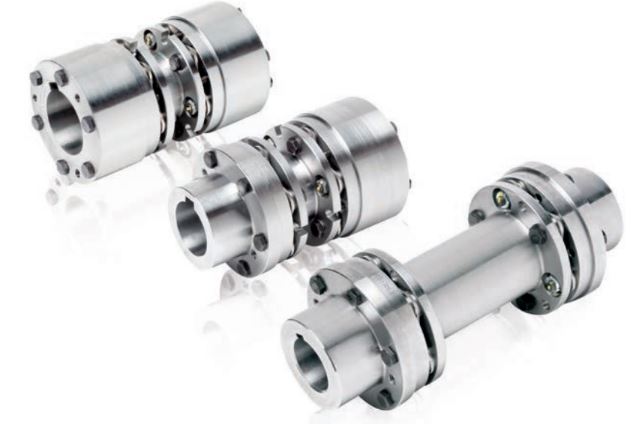 The Dodge Disc Coupling offers industry leading torque capacity and misalignment capability,
resulting in longer life and improved reliability. In addition to the high torque and misalignment capabilities, it provides features for customers to save money by downsizing with a large hub option, and prevent unexpected downtime costs with strobe light inspection.

Dodge Gear couplings (Metallic, gear style)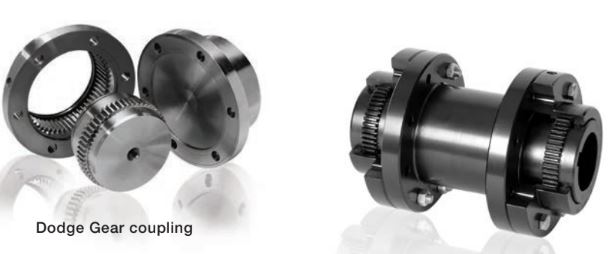 Engineered for improved operation, the Dodge gear coupling is manufactured with high-quality forged steel for longer service life, and features high torque capability for efficient downsizing. Excellent torque/speed ratings, Superior sealing system, Versatile design, Largest bore capacity in industry, Custom capabilities.

Dodge Moment couplings (Metallic, rigid)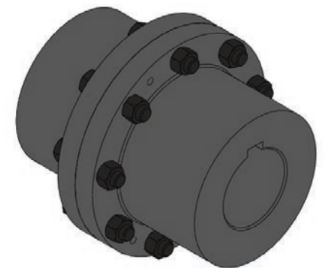 Dodge Moment couplings are specifically designed to make the rigid connection between the output shaft of a gearbox and head pulley. Highly engineered to meet the most rigorous application requirements, these couplings are capable of handling both the required application torque and the bending moment forces of the suspended weight of a drive package, including the gearbox, motor, high-speed coupling, and swing base.

Dodge Fluid couplings (Mechanical soft starts)

The Dodge Fluid coupling allows the driver to start under "no load", resulting in a smooth start up and reduction of amp draw from the motor. Since there is no physical connection inside the housing, it has built-in overload protection and inherent torsional vibration absorption. Additionally, load balancing is possible with the use of asynchronous motors, instead of custom motors, since the Fluid couplings automatically adjust to load speed.
Dodge Raptor Coupling (Elastomeric)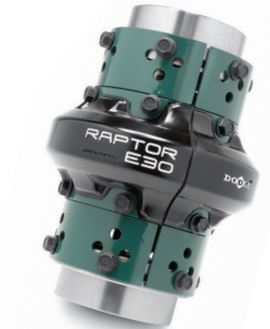 The Raptor's easy to assemble, patented split natural rubber element significantly decreases total costs of ownership and extends driven equipment life. Built for drop-in interchangeability, the Raptor features an innovative design offering easier installation, reduced maintenance, and improved reliability in a wide range of new and existing applications.
Technical Catalogs