Rexnord Conveyor belt

Basic information
Rexnord has an accomplished team of 300 engineers, craftsmen, market experts and technicians renowned for producting metal conveyor belts, filtration and wire cloth for industrial and food processing applications. We pioneer the manufacture of precision-engineered belts and continue to excel with a focus on innovation and customer service.
Food processing facilities have unique challenges that require unique solutions. Rexnord's KleanTop plastic modular belting products are food grade conveying solutions made specifically with food processing applications in mind.
Design attributes and advantages
Klean top conveyor belts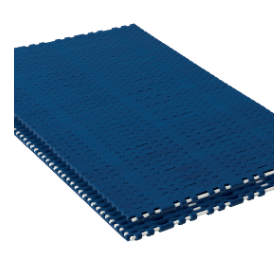 390 series Klean top plastic modular belt
The 390 Series KleanTop belt features an optimized design for tight transfer conveyors and is available in materials specific for the food industry. Used for small product handling where stability or delicate nature of product is critical to operation, the 390 Series delivers on performance and reliability.
minimizes the need for adjustments for belt tracking and continuous operation.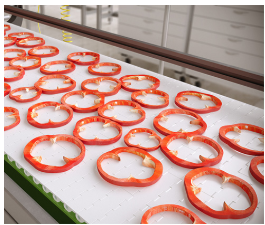 1010 series klean top plastic modular belt
The Rexnord 1010 Series KleanTop plastic modular belt allows for reduced time in cleaning and reliable transfer of product – especially in wet environments
The open hinge design gives maximum access to the rod, with 60 percent rod exposure ensuring it can be effectively cleaned.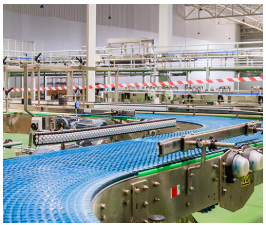 1200 series klean top plastic modular belt
The Rexnord 1200 Series KleanTop delivers a versatile solution to optimizing floorspace with tighter turns and shorter infeed and outfeed lengths.
Side-flexing design with 1.2 and 2.0 turn radius enables compact configuration with shorter infeed and outfeed lengths.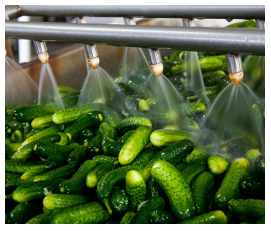 5960 series klean top plastic modular belt
The 5960 Series KleanTop is an ideal option for food processors requiring an efficient way to drain excess water as product moves through the line. The belt is especially effective in lighter duty fruit and vegetable secondary wash applications.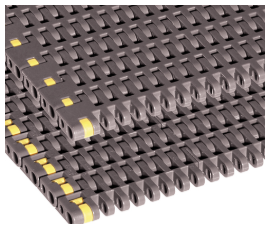 8500 series klean top plastic modular belt
Excess oil can drain through the open area of the belting without being carried through the production line.
The Fryer Temperature Resistant material enables the belting to resist damage caused by high temperature or abrasive applications, extending belt life.
590 series klean top plastic modular belt
The Rexnord 590 Series KleanTop plastic modular belt offers the optimal combination of ease in cleaning, transfer capability and belt strength.
A reinforced edge eliminates the risk of product contamination that is inherent with plastic belting as edges wear down over time
The open hinge design gives critical access to the rod, ensuring it can be effectively cleaned.
1090 series klean top plastic modular belt
The 1090 Series KleanTop plastic modular belt offers the optimal combination of ease in cleaning and belt strength.
A single rod per row of belting, coupled with access to the rod from either side of the belt helps to ensure assembly and maintenance is more efficient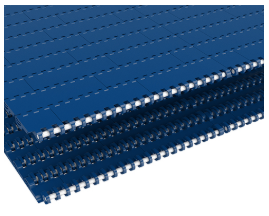 2010 series klean top plastic modular belt
Sanitation and strength are key when moving food products through your processing line. The Rexnord 2010 Series KleanTop belt is designed for durable, abrasion resistant conveying, saving you time in cleaning and maintenance.
Open hinge design gives critical access to the rod and hinge area for effective cleaning.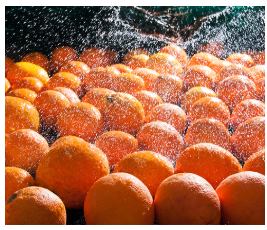 5690 series klean top plastic modular belt
The 5990 Series KleanTop plastic modular belting offers strength and durability in applications involving extreme loads, temperatures and ultra-violet rays.
The belt's high working capacity is optimal for adverse temperature and load carrying conditions
Metal conveyor belts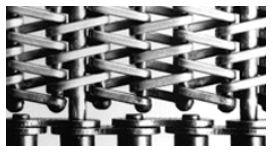 Straight line positive drive metal conveyor belts
Our Straight Line Positive Drive Belts have custom sprockets to deliver the absolute best tracking and smoothest operation.
These low tension, self-tracking belts are perfectly aligned with each application

Dura hinge series metal belt
The DuraHinge Series belt gives food processors a durable solution in flex-style belting. Ideal for applications in baking, snack and meat processing, DuraHinge facilitates effective cooling and drainage and is designed with an optimized hinge to reduce metal fatigue.

Precision series metal belt
Precision belting promotes stable product carrying and better belt tracking, allowing for increased product throughput and longer belt life. Ideal in a wide variety of applications, the Precision Series features unique sprockets and machined MTR rollers that engage the belt for true tracking and steady product conveying.

Sani-grade series metal belt
The Sani-Grid metal conveyor belt is unique in that it is simply designed yet very durable and versatile. It is able to withstand harsh and abusive conditions often found in poultry processing, and can carefully transfer delicate products such as doughnuts and pastries.
For detailed product range please refer attached catalog
Straight line friction drive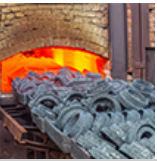 Knucklebcak series metal belt
The Knuckleback Series metal belt features a reverse weld that moves tension away from the weld point, extending the service life of the belt and lowering total cost of ownership.
Double weld on outer edges helps to prevent belt fraying, thus reducing the chance of catastrophic failure.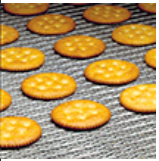 Balanced flat series metal belt
The Balanced Flat Seat Series is designed to provide stable conveying for dry applications in the baking, metal working, glass, ceramic and electronic industries.
Each belt provides benefits of a traditional balanced weave belt, with the added value of superior product stability and less stretch over time, giving you a better total cost of ownership.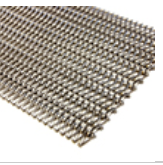 Dia crimp metal belt
The DiaCrimp Series metal belt is a balanced weave Lehr belt uniquely designed for a better total cost of ownership in glass annealing and applications with extreme temperatures and top-heavy products.
The DiaCrimp Series' design allows the spiral to seat securely within the crimped rod, reducing stretch and minimizing the need for maintenance.
Turn spiral cage belt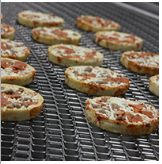 Cambri link series metal belt
Designed for efficient airflow, easy cleaning and product stability, the Cambri-Link Series conveyor belt helps maintain product quality in a straight-running or spiral applications.
Camedge series metal belt
Demand for food product is growing, but without a larger facility it can be difficult to keep up with production requirements. The CamEdge Series is a cageless, metal spiral conveyor system configurable to the needs of your plant, saving you space without sacrificing production.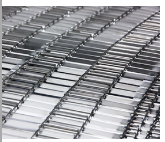 Dura light series metal belt
The DuraLite Series Metal Belt is a proven solution for cooling, freezing and proofing applications in straight-running or turn & spiral configurations. This link-style belt has proven to be a stronger alternative to competitive belts, increasing throughput and extending belt life.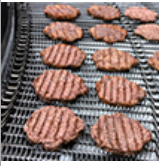 Cam-grid series metal belt
The Cam-Grid Series metal spiral conveyor is a reliable solution for carefully conveying small or fragile food products.
Overlays are constructed with spring temper stainless steel, aiding to resist fatigue and damage.
Filter screen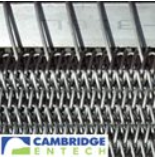 Ash screen
Coal-fired power plants must protect their equipment from ash buildup and clogging.
Ash screens filter ash at the boiler seal trough and expansion joints.
They also protect refractory lined walls and maintain water seal integrity.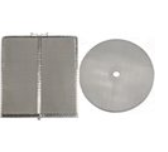 Brewery and winery filter
New or re-screened filters made to match original OEM filtration with less wait time.
Filters ideal for use in micro/craft breweries, wineries, artisan vinegar and juice making facilities.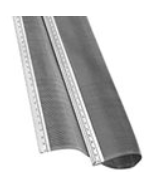 Vibrating screen
Our vibrating screens have been used for many years in industry segments such as poultry processing, insulation, chemicals, mining and others. Applications include washing, dewatering, sizing and more.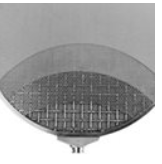 Premium continuweld filter screen
Premium design can be applied to create or convert filters for any OEM design, including the most state-of-the-art pressure filters. 
Continuous weld eliminates pockets, prevents bacteria growth
Rigid, durable, easy to screen.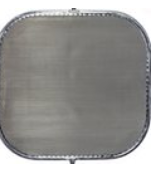 Industrial filtration
Our standard-fabrication filters combine superior materials, components and design to achieve high performance.
Filter cloth is calendared to provide a smoother surface or greater density. 
Gripper slings
Proof-tested at 200 percent of its rated workload, every Gripper Sling's wide bearing surface improves load balance and gripping power. As it won't kink or tangle in use like wire rope or chain slings, loads don't shift or slip. The woven spiral construction eliminates the danger of sudden failure that can occur when synthetic sling core rots or a weak link in a chain sling.
Interwoven, smooth spiral wires offers complete flexibility
Steel mesh tolerates abrasive loads without fear of sling failure
Outlasts wire rope and synthetic slings
Water screen systems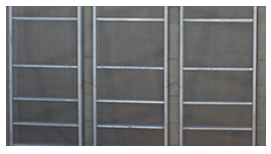 We provide custom engineered solutions, manufacturing, and installation support of new and replacement Traveling and Static Water Screen Systems. Traveling Water Screens are also referred to as Cooling Tower Screens, Fish Escapement Screens, Exclusion Screens, Intake Screens, Pump Screens, Trash Screens, and Bar Screens.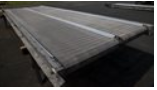 Traveling water screen system
We provide custom engineered solutions and manufacturing of new and replacement Traveling Water Screen Systems
Filter water drawn for use in multiple applications
Effective and economical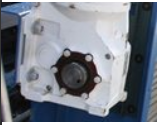 Manual drill drive traveling water screens
Our Hybrid Traveling Water Screens are there to protect pumps and downstream systems with an electric drill instead of an electric motor. This solution is great for dealing with water processing, heat reduction systems and other manufacturing plants.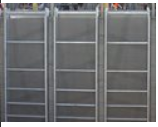 Static water screen system
Our Static Water Screens are used in a wide range of environments, from water processing, heat reduction systems, to agricultural projects.
Technical catalog