Pulley Lagging
Basic information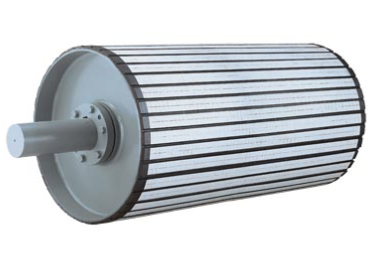 If your issue is belt slippage, we have the solution. From gutterless designs that minimize vibration to products that feature the highest coefficient of friction on the market, we have a lagging product to meet the needs of your operation.
Design attributes and advantages
Flex Lag rubber pulley lagging
To eliminate belt slippage, increase pulley life, improve water shedding, and boost productivity, Flex-Lag® Bondable Pulley Lagging is a smart choice. Its design allows for installation in a fraction of the time compared to conventional lagging because Flex-Lag does not require removing the pulley from the conveyor system. A labor-saving cold vulcanization process with Flex-Lag Adhesive makes on-site installation fast, simple, and efficient.
No wasted ceramic with easy-to-specify dimensions by using pulley or belt width.
Constructed from individual ceramic tiles molded into high-durometer rubber for superior abrasion resistance.
Horizontal grooves trap and deflect water.
Molded ceramic buttons grip the belt's underside for positive traction and no slippage.
Flex leg weld on pulley lagging
Flex-Lag® Weld-On™ Pulley Lagging features a patented gear-tooth design. This eliminates the wide gutters present in conventional weld-on lagging products and also helps minimize problems associated with vibration, cleaner chatter, and overall belt cleaner compatibility.
Available in rubber and ceramic
Pre-cut to standard CEMA pulley widths for fast, easy installation
Can be easily installed without removing the pulley
Available with FRAS-approved rubber
Technical catalog