Timken Precision TRB
Some applications demand a high level of precision that cannot be achieved with standard tapered roller bearings. This includes many machining, printing press and rolling mill applications where combinations of tight tolerances, high speeds and radial and thrust loads are present. For more than 50 years, The Timken Company has offered a wide array of precision-class tapered roller bearings that deliver superior accuracy and control in critical applications.
---
Standard Applications
Machine tool builders must respond to customer demands for accuracy and quality, while reducing downtime and increasing productivity. Timken precision bearings offer machine tool builders an economical solution that meets or exceeds most application needs for rotational accuracy, consistency and rigidity. Many of our precision bearings are also designed to meet the high-speed, low-heat demands of the machine, enabling non-synchronous run-outs below .00040 inch (<1 um). This capability, also known as non-repetitive run-out, increases the accuracy, repeatability and resolution of the machine
---
Precision TRB Features
Tighter manufacturing specifications resulting in greater rotational accuracy.
Reduced tolerances on bore and outside diameter creating improved performance in high speed, high temperature applications.
Straight race and/or roller profile designs (versus crowned profile designs) for increased accuracy and rigidity.
Controlled machining and assembly processes to ensure that components are matched properly and exact specifications are met.
High load-carrying capability compared to other bearing types so that fatigue life is enhanced.
The ability to be adjusted during installation so that operating torque, shaft rigidity and operating temperature can be precisely controlled.
---
Tolerance Range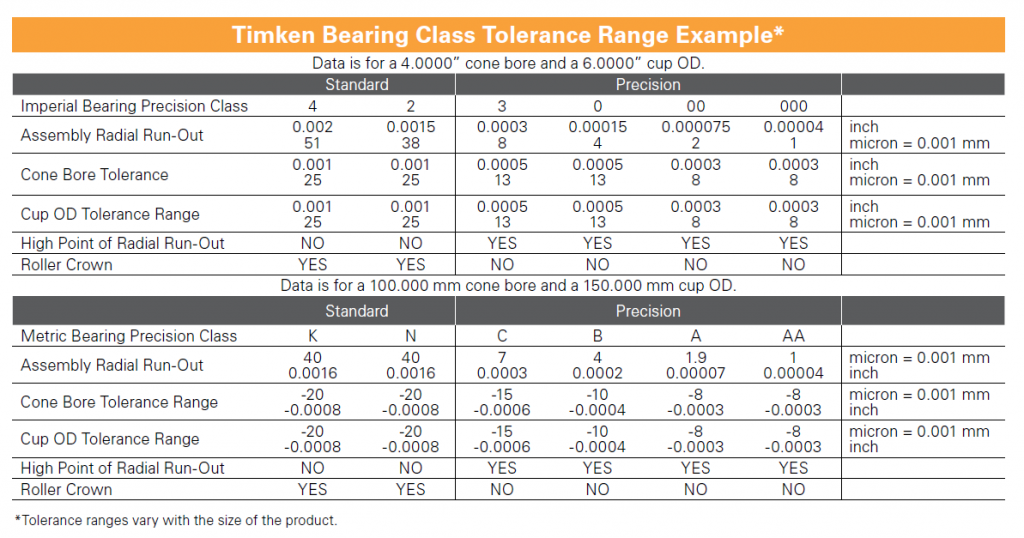 ---
Note: For more details of part numbering system refer the link
Note: For more details of part numbering system refer the link