LUB 5
The efficient and economic solution for single lubrication points
Automatic Lubrication of bearings, chains, open tooth systems and linear motions. LUB5 is running 24 months per filling. The running time per filling is adjusted directly on the device. The remaining filling cycles are shown by LEDs.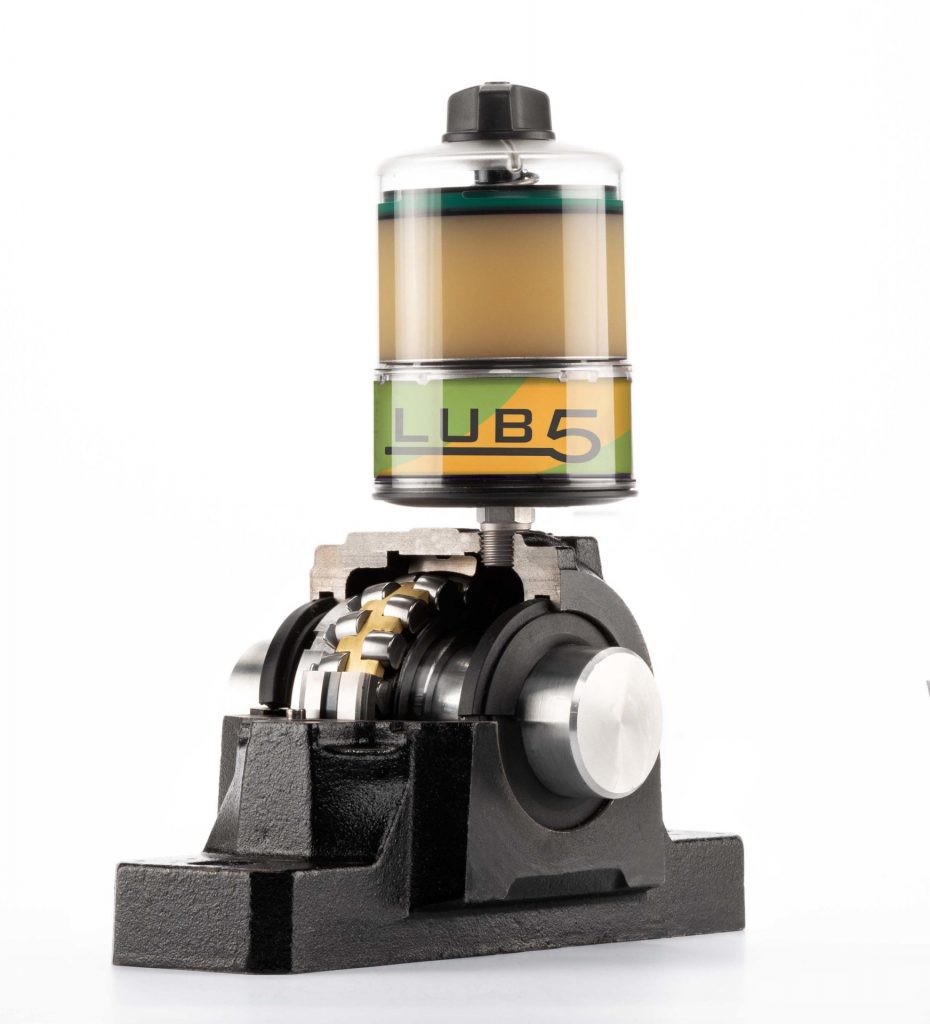 LUB5 is an electromechanical lubricator designed to supply single lubrication points with oil or grease.

The lubricator is intended for stand-alone use as the energy supply is provided by a integrated battery pack.

The lubricant is stored in a refillable reservoir with a capacity of 120 or 250 ml. Maximum output pressure is 10 bar (145 psi).

When using the suitable lubricant, the battery pack enables up to 5 discharges respectively a maximum runtime of 48 months (whatever occurs first).
Your benefits
Electromechanical drive
10 bar (145 psi)
Up to 24 months per filling
Refillable up to 4 times without any follow-up costs (max. 48 months)
Self-filling possible
For oil or grease up to NLGI cl. 2
20 °C to + 60 °C (with suitable lubricant)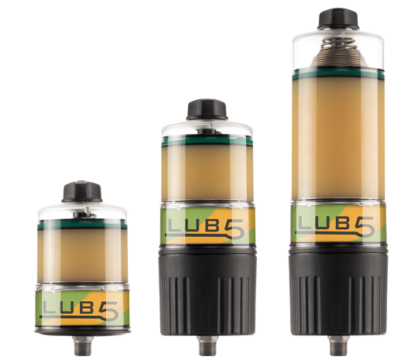 LUB5-120
Lub5-120 PLUS
Lub5-250



Runtime per filling
1 / 3 / 6 / 12 / 24 months

Volume
120ml

Discharges
max. 5 (=600 ml)

Dimensions
(H x Ø)127 x 70 mm

Fixing thread
External thread R1/4″

Filling
empty / standard filling / special filling

Battery capacity
Standard
Runtime per filling
1 / 3 / 6 / 12 / 24 months

Volume
120 ml

Discharges
max. 5 (=600 ml)

Dimensions
(H x Ø)182 x 70 mm

Fixing thread
External thread R1/4″

Filling
empty / standard filling / special filling

Battery capacity
Triple (suited for high counterpressure and low temperatures)

Runtime per filling
1 / 3 / 6 / 12 / 24 months

Volume
250 ml

Discharges
max. 5 (=1250 ml)

Dimensions
(H x Ø)243 x 70 mm

Fixing thread
External thread R1/4″

Filling
empty / standard filling / special filling

Battery capacity
Standard